Ken Block and his Hoonigan gang have finally released Gymkhana 7, which sees Ken use his newly-built 1966 Ford Mustang all-wheel drive V8 monster for the first time, in the streets of LA.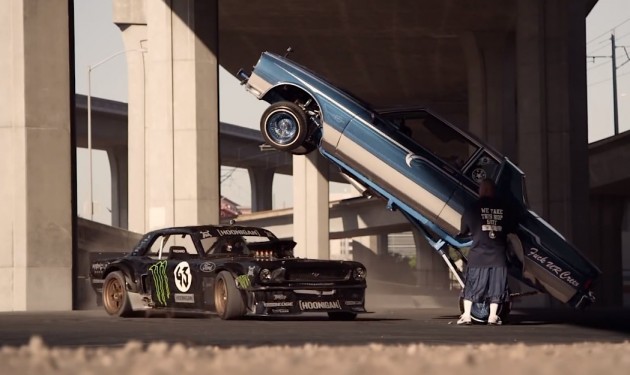 Ken uses his new car, called the Hoonicorn, to rip up the streets of Los Angeles. As per usual, he drifts within inches of everything he comes near and slides around as if he's competing in a WRC event – except on the streets of LA and not somewhere in the bush. He even chains the car up to showcase its tyre-frying potential, shredding rubber like an all-wheel drive 630kW Mustang should.
The Mustang uses a Roush-yates 6.7-litre V8 that produces 630kW and 976Nm. Underneath the ASD full tubular chassis, the all-wheel drive setup is fed power via a six-speed sequential SADEV transmission. The car is said to be inspired by toy cars Ken possessed as a kid; WRC cars, American muscle, and DTM race cars.
If you were lucky enough to go to the SEMA Show, the Hoonicorn was on display for everyone to see. Let's hope Ken decides to bring the crazy Mustang to Australia one day.
We don't want to give too much away, so check out the video below. If you thought his last videos were entertaining, you're in for a treat this time around.