You might remember the stunning Lyonheart previews from a year ago. The company has just announced the Lyonheart K Coupe and K Convertible are now available to order.
Designed by Robert Palm and Bo Zolland, the body takes clear inspiration from the very sexy Jaguar E-Type of the 1960s. It features swooping body panels, curves in all of the right places, elegant hips, and a long sumptuous bonnet.
Under that bonnet sits a bespoke 5.0-litre supercharged V8 engine tuned by Cosworth. It produces 429kW of power (575PS) and 700Nm of torque. Matched up to a six-speed automatic transmission, the Lyonheart – fitting name isn't it? – is able to sprint from 0-100km/h in just 3.9 seconds.
The retro design is garnished with modern appointments inside, with brushed aluminium, stainless steel, and of course fine wood trimmings in every direction, while sitting in the dash sits a Bowers & Wilkins sound system with Bluetooth and USB compatibility. The unit features a rise-up 7.0-inch LCD screen.
Other modern features include adaptive suspension with electronic-actuated dampers, an active limited-slip differential, speed sensitive steering, and a set of 380mm front disc brakes clamped by aluminium calipers.
To complete the package and to rekindle with the E-Type spirit, there's a set of 20-inch wire-spoke alloy wheels. Although the headlights look similar to the originals from the Jag, they come with bi-xenon globes for a crisp view in the dark and are outlined by daytime running LEDs.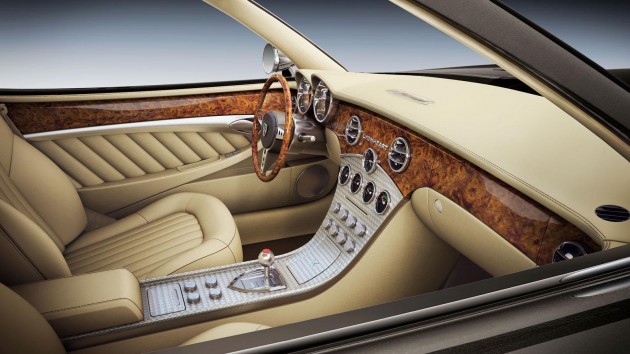 Lyonheart is planning to build just 250 examples of the K, with production kicking off in December. Prices start at an eye-opening 360,000 euros (approximately AU$446,822).
It might seem fairly expensive but when you take a look at some of the images below you can begin to appreciate the sheer attention to detail spent on almost every part of the car.