Thinking of buying a brand new Ford Everest? You might want to think again. It seems the new SUV could have a tendency to spontaneously burst into flames. As was the case with this example while it was being test driven near Newcastle yesterday, spiking an investigation by Ford Australia which could lead to a major safety recall.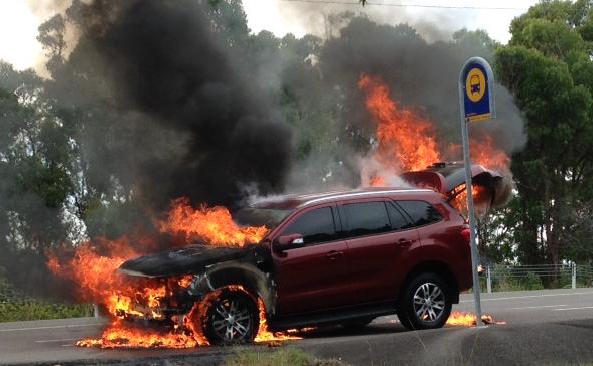 The Ford Everest is the company's latest SUV, based on the Ranger ute. It's set to absorb seven-seat SUV sales for Ford Australia until what is planned for the future of the dying Territory is confirmed. In other words, this is a very critical incident for the local company as the Everest is a very important vehicle.
Firstly, nobody was injured in the fire. The vehicle in question was being test driven by local media, when the driver apparently witnessed warning lights show up on the dash, before then engine shut down automatically. Quoted in a News Corp report, driver Peter Barnwell said:
"As I rolled to a stop it just burst into flames. There were flames licking out from under the bonnet… There were explosions and bits of shrapnel firing 50m down the road. I got as far away from the thing as I could."
Barnwell also said a mum with kids in the back would have struggled to get out in time. Considering the Everest is targeted at the family market segment, offering seven seats, Ford Australia will have to ensure it gets to the bottom of this.
A Ford spokesman has said it is investigating the matter, however, no recall has been made at this stage. A potential recall may also affect the thousands of Ranger utes sold in Australia, given they share much of the parts and platform.