Ford Australia has announced its new user interface system, called SYNC2, will debut later this year. The technology is expected to make its first appearance in the 2015 FG X Falcon and Territory, arriving in November.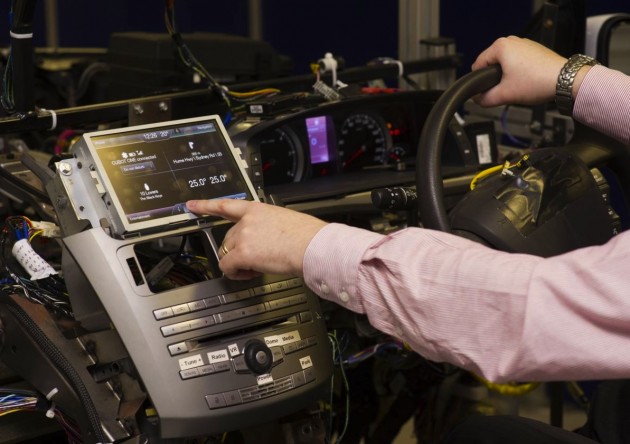 The SYNC interface is Ford's concept for in-car connectivity and user interaction. It's been available in a range of Ford products for the past few years.
As the name suggests, the SYNC2 system extends on the technology. It's now all controlled by voice this time, or by touch controls on an 8.0-inch colour touch-screen.
All systems, such as the sat-nav, climate control, and the on-board entertainment, can be controlled by the driver's voice. This means the driver will never have to take his or her hands off the wheel, improving overall safety.
The voice recognition will be quite advanced too, going further than simply 'turn up audio' and 'change radio station'. Ford says the system is able to respond to messages like 'I'm hungry', once the activation button is pushed. This sort of command results in the sat-nav bringing up a list of local restaurants.
Interestingly, the system has been developed in Australia and for Australian products – you can see the current Ford Falcon dash being used in the prototype in the image above. Users will be able to say a full address at once and it will understand and bring up the navigation. It can also 'find a park', to locate the nearest car park. Bob Graziano, CEO and president, spoke about the advanced tech in a statement, saying,
"Australian drivers are fast adopters of in-car technology, so we're extremely excited to introduce SYNC2 to the ever evolving list of Ford-developed technologies Ford drivers can now experience while on the road.

"SYNC2 brings a new level of sophistication to voice control, allowing drivers to keep their eyes on the road and their hands on the wheel."
The system should help the new Falcon and Territory compete with the Holden Commodore's MyLink system, if it makes it to the new models.
SYNC2 will also be incorporated in a number of updated Ford models next year, including the new Focus, Mondeo, and the all-new Everest SUV.