As a way of protesting after an alleged incomplete service experience, the owner of a 2008 BMW M6 has decided to literally beat up his car outside the 2013 Frankfurt Motor Show to attract attention.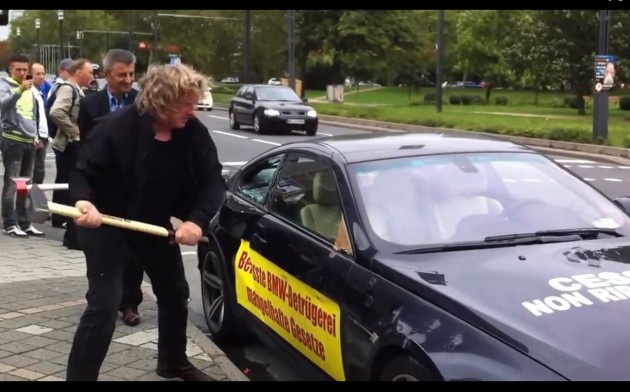 In-depth details of the service experience aren't completely clear, however, it's understood the M6 owner took the car in for repairs around 10 times only to see the 'problem' still there.
It's unknown what was wrong with the car exactly. Whatever is was, the owner certainly doesn't seem too happy about it, using an axe and a sledge hammer to smash up panels and windows.
It's an expensive way of trying to prove a point, but by venting his aggression onto the car all we see is a poor M6 being beaten up. Does he have to take it out on the car and not the service centre?
What do you think? Is he an idiot or is it a point well proven?
To refresh your memory, the near-$300,000 (when new) super sports car features a screaming 5.0-litre V10 engine producing 373kW. It comes with top-line BMW 6 Series luxury and all of BMW M's usual performance credentials.
Click play below to take a look, if you can bear it – we couldn't watch it all as it was too disheartening to see a car like this go to waste.