A very special, one-off Ferrari P80/C track car has been created for a, no doubt, wealthy client, inspired by classic Ferrari racing cars.
The Ferrari P80/C project actually kicked off back in 2015, and the brief was to create a modern sports prototype that was inspired by the 330 P3/P4 and the 1966 Dino 206 S. It has since been crafted at the Ferrari Styling Centre, and has been the longest-running one-off project ever for the brand.
To provide the foundations, the 488 GT3 racing car chassis is used, including the wheelbase which is 50mm longer than the regular 488 GTB's wheelbase. This gave designers more freedom. Unlike the 488 though, the cockpit is positioned in a cab-forward form which allows for an elaborate rear end.
From above you can see the proportions of the car, with a wider front end than the rear and a pinched-in waistline. This hourglass shape is iconic and is supported by a flying buttress-style C-pillar detached from the main cabin structure. There's also a wild rear wing and diffuser element which hints at its performance focus.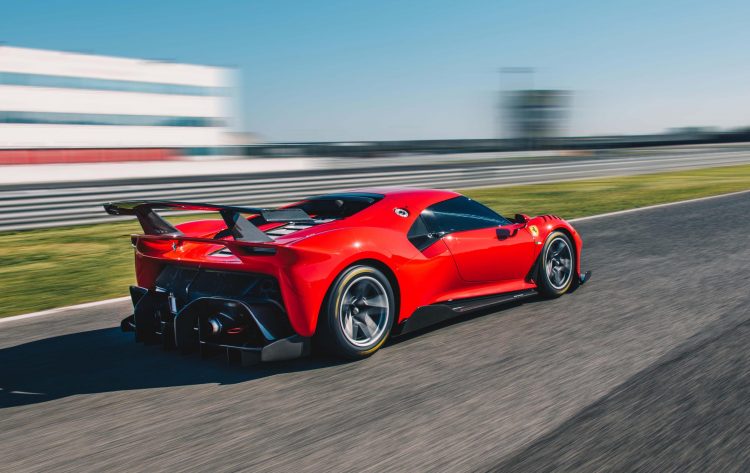 At the request of the client, the car comes with 18-inch centre-lock racing wheels as well as 21-inch wheels in 'exhibition' guise. Only the serious exterior components are left in bare carbon fibre, while the main body is coated in Rosso Vero red. Speaking about the car in a statement, Ferrari said:
"The Ferrari Styling Centre's goal was to create a resolutely modern car that made no major concessions to the past, apart from attempting to recreate the sensual shape of those iconic models through more muscular wings formed by the intersection of concave and convex surfaces."
Specifics on the powertrain haven't been detailed but we're guessing it uses the 3.9-litre twin-turbo V8 from the 488. The interior is also left in mostly the same layout as the donor car, with an integrated roll cage, carbon fibre seat shells, and a revised dash.
The name P80/C was chosen by the client, and it will remain as the only P80/C ever made. Being the only version in the world, we're guessing it cost more than a pretty penny.