Uber and Volvo have announced the continuation of a collaboration that will see autonomous driving technology tested on the streets of San Francisco.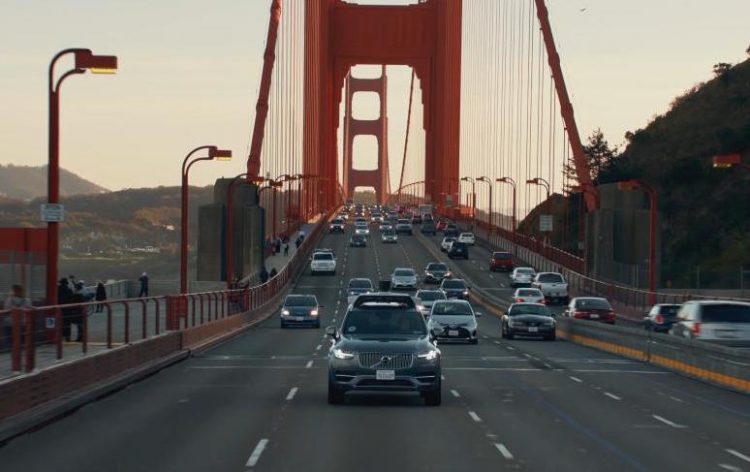 Volvo has released a statement confirming that it is working alongside Uber as the ride-hailing company looks to expand its self-driving pilot program to the inclined streets of San Francisco, California. Volvo has supplied specially-converted self-driving examples of the Volvo XC90 for Uber to use.
Each of the XC90 autonomous vehicles involved in the pilot programme will have an Uber technician on board to supervise the car's operation, and to ensure occupants and the public remain safe. The latest cars supplied by Volvo for the testing are sold to Uber, who in turn install their hardware, like the roof-mounted componentry and software for the tests.
"The promise of self-driving ride sharing is becoming a reality," said Mårten Levenstam, vice president of product planning at Volvo Cars. "Volvo is proud to be at the forefront of the latest developments in the automotive world alongside our partners at Uber."
Back in August Volvo and Uber teamed up on a $300 million project that saw 100 examples of Volvo's XC90 SUV tested on the public streets of Pittsburgh, Pennsylvania. At the time of the announcement, Volvo's CEO Hakan Samuelsson, said:
"We are very proud to be the partner of choice for Uber, one of the world's leading technology companies. This alliance places Volvo at the heart of the current technological revolution in the automotive industry."
The alliance between the Swedish manufacturer and American ride-hailing service forms one part of Volvo's three-part plan to develop autonomous driving technology, according to Volvo. In January, 2017, project 'Drive Me' is set to kick off, which is, according to Volvo, "the world's largest autonomous driving test" in which up to 100 AD (autonomous driving) cars will be given to members of the public to be driven on real roads around Gothenburg, Sweden. The data gathered will be used to co-develop and refine both Volvo and Uber's autonomous driving technologies.
The second part of Volvo's autonomous driving masterplan is a joint venture with Autoliv, an automotive safety technology company. This collaboration will be used to manufacturer separately-branded autonomous and driver assistance technology, which will in turn be sold to third parties like other manufacturers. Volvo is planning to station Autoliv in Gothenburg, expanding its employee force from 200 to 600.
The third part of Volvo's autonomous masterplan is continuing the working relationship with Uber to build and co-develop autonomous vehicles and technology, which reduces development costs for both parties involved. Both Uber and Volvo will use the same base technology for each of their respective testing and development procedures.