You may have heard of Toyota's TNGA (Toyota New Global Architecture). It's a platform system that currently underpins the Corolla, Camry, and RAV4. The company has now announced a smaller version, called the GA-B platform.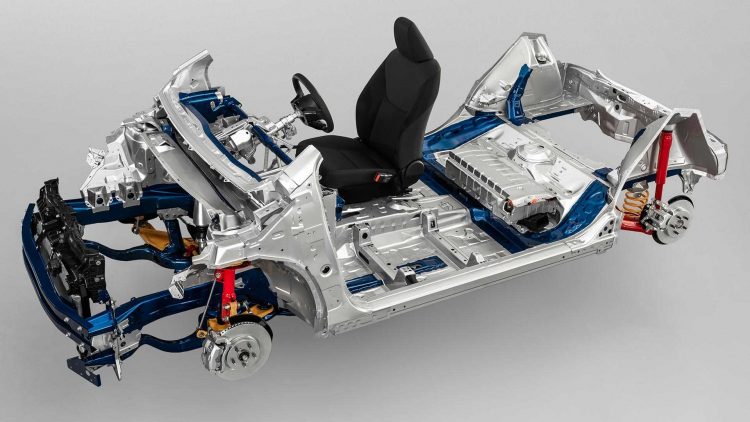 Building on from the developments of the TNGA, which brought in significant leaps forward in ride quality, handling, and design, the GA-B layout has been developed for the next generation of small cars. It promises a confident and natural driving experience.
The underbody is engineered to be very rigid and is made using advanced techniques to both strengthen the joints but also to optimise weight. Cost control is also a factor, which, in the end, will help Toyota maintain reasonable prices at the dealership.
At the front is a MacPherson strut suspension setup with low-friction dampers. Toyota says it can also accommodate different spring types, which could open the door for performance and sporty variants. At the rear is a torsion beam setup, however, multi-link is also compatible.
Helping with the centre of gravity, the driver's seat is mounted low and back slightly, to it's closer to the centre of the car. Toyota says this helps to provide a more engaging driving position too, with an adjustable steering column that can be pulled close.
Lastly, the GA-B platform has been designed to offer maximum interior space for the given dimensions. Smart packaging means the vehicles that are underpinned by the layout should offer class-rivalling passenger space, as well as a generous boot.
Toyota also says there are standardised components in out-of-sight areas, while other components can be modified so each vehicle can take a different exterior design. Toyota says designers will have the freedom to create a distinctive look for each model.
The GA-B platform is modular, allowing for different wheelbase lengths, heights and track widths, which also means it could be used to underpin hatchbacks, crossovers and SUVs.
No details have been confirmed in regards to what models we can expect to be spawn from the platform, however, models such as the next-gen Yaris seem like a pretty safe bet.