Look at this. Hideous or hunky? Well, regardless of what you might think, the new RAV4 is a force to be reckoned with. The packaging, driving dynamics, and value for money presented here should scare the living daylights out of the competition. So let's take a close look and maybe that potential styling issue can be forgiven.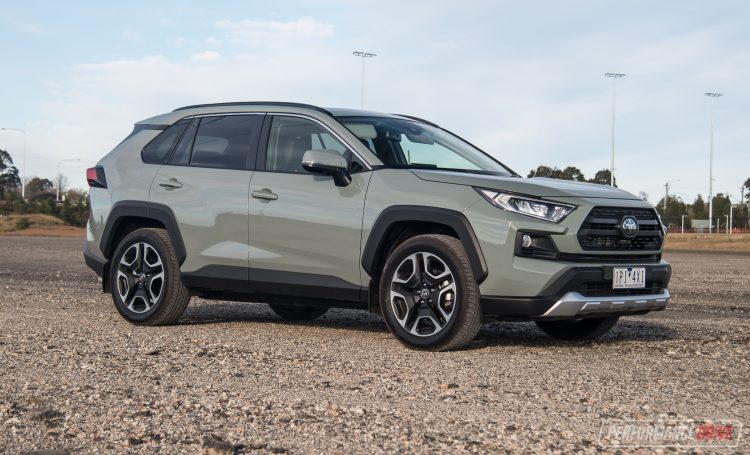 This is a properly new model, based on the advanced Toyota New Global Architecture (TNGA). It's larger and a lot more spacious inside compared with the predecessor, and Toyota is offering some brand new engines including a hybrid for all variant levels. Yep, you no longer need to step up to the premium variants to attain the benefits of hybrid technology.
This example here is also new, called the Edge. However, serious RAV4 enthusiasts will remember Toyota actually offered a RAV4 Edge back in the early 2000s. For the new model Toyota has moved the Edge further away from the rest of the range, giving it an exclusive 2.5-litre petrol-only 'Dynamic Force' four-cylinder that produces 152kW and 243Nm. It also comes exclusively with an eight-speed auto, leaving all others with a CVT, or six-speed manual for the base GX.
Prices start at $47,140, which is more affordable than the flagship predecessor RAV4 Cruiser diesel that started from $50,500. Considering the huge leaps forward in technology and standard features, you'll soon see this is something of a bargain. Especially for a Toyota, that, let's face it, carries a reputation that many brands can only dream of.
2019 Toyota RAV4 Edge – THE SPECS
Engine: 2.5-litre four-cylinder
Output: 152kW@6600rpm / 243Nm@4000-5000rpm
Transmission: Eight-speed auto
Drive type: All-wheel drive
Wheels: F & R: 19×7.0, 235/55
ANCAP: Five stars
Tare weight: 1670kg
Power-to-weight: 10.98:1 (kg:kW)
Official fuel economy: 7.3L/100km
Economy during test: 8.4L/100km
Fuel capacity/Type: 55L/91 RON
Power efficiency: 20.82kW:L/100km
0-60km/h: 4.55 seconds*
0-100km/h: 9.41 seconds*
60-110km/h: 6.52 seconds*
1/8 mile: 11.12 seconds at 110.3km/h*
1/4 mile: 16.89 seconds at 139.5km/h*
Max acceleration: 0.555g
100-0km/h braking: 2.90 seconds at 37.33 metres*
Max deceleration: -1.199g
Decibel at idle: 43*
Peak decibel at 60-100km/h: 78*
Priced from: $47,140
* Figures as tested by PerformanceDrive on the day. Factory claims may be different

2019 Toyota RAV4 Edge – THE PACKAGE
We actually quite like the exterior design. We know, because a lot of people told us during our time with the car, that the design is a bit polarising and thought-provoking. But let it sit with you for a few days and you might come around to it. We think it looks well proportioned and more defined than the old model, and even tough for this class, with a bit of Ford Ranger and American truck in there.
Compared with the predecessor, the stance is much wider and more wagon-like as opposed to being upright and somewhat van-inspired. The wheelbase is 30mm longer and the overall length is stretched 10mm, while the body stands 20mm wider, and the roof height drops 25mm compared with the old model.
Going for the Edge variant garners some bespoke 19-inch alloy wheels in dark grey with a machined face, as well as black front grille treatment, black badges at the back, and unique front and rear bumper bars complete with lower skid plate finishes. There's also body-coloured door handles rather than the chrome on other variants, and buyers can option for a new Jungle Khaki green paint as showcased here. We really like this colour too as it stands out but isn't over the top, compared with the sea of white and silver SUVs you'll often see in this segment.
The interior is perhaps the star of the show, however. Forgetting the orange highlights which are exclusive to the Edge, the latest RAV4 is comprehensively filled to the brim with modern conveniences and technologies. For the dash there's an 8.0-inch touch-screen infotainment system that includes stuff like digital radio, sat-nav, a rear-view camera and rear cross-traffic alert, all as standard. Wireless phone charging is also standard on all but the base GX. Adaptive cruise control, blind-spot monitoring, and autonomous emergency braking with pedestrian and cyclist detection is also standard. And even road sign recognition comes at no cost on the base model and up.
As you can see, Toyota has worked hard to ensure the new RAV4 is taken seriously by buyers in this class. Spending up to the Edge introduces the luxuries you'll find in the otherwise-flagship Cruiser variant. For the driver there's a 7.0-inch digital display within two analogue dials within the instrument cluster, as well as leather-like seats (Softex) with power adjustment for the driver, and a splendid JBL nine-speaker sound system complete with a sub-woofer in the boot.
But aside from the brochure specs, the RAV4 Edge is a genuinely comfortable and interesting place to be. Sure, the orange highlights make it look like a bit of a training shoe. And the tyre tread finishes on some of the knobs can seem a bit gimmicky. However, we think it all works really well. The sports seats in the front offer superb comfort and support, and most of the storage shelves and pockets feature a rubber lining for refinement. Everything is placed perfectly in the cabin, too. So it's easy to find the various functions, and being a Toyota, the build quality is top notch.
Rear seat passengers are well catered for as well. There's loads of legroom. On second thought, probably the most legroom we've seen in this class. Or at least near the benchmark. Two charging ports are at the ready in the back of the centre console, with climate vents ensuring long-distance comfort. The rear bench reclines as well, which not only helps to provide a relaxing experience but also opens up the headroom just that little bit more. Not that the headroom is lacking. Take a look below.
Right at the back the boot presents up to 580 litres of volume thanks to a dual-level boot floor. This means you can remove the floor and place it lower down thanks to little rails in which the floor piece sits. We're not entirely sure why Toyota didn't just lower the floor permanently, as the space below it is mostly filled with the space-saver spare wheel. A storage pocket in the side helps to secure small items, and a 12V power socket means you can take a temporary cooler along with you during weekends away.
Overall, we think the new RAV4 cabin is one of the best in the segment. It certainly resets benchmarks for equipment and real practicality, and comes close to pushing the boundaries for passenger space and storage options.

2019 Toyota RAV4 Edge – THE DRIVE
Underpinned by the TNGA layout, the new RAV4 is a big improvement on the predecessor in terms of driving dynamics. It now feels and behaves more like a station wagon rather than a duty-focused 4×4. You sit more naturally and 'in the car' instead of 'on' the car, but the view around you is still clear and somewhat commanding.
For us, it's the new steering that makes it noticeably more pleasant to drive than before, turning in with a light-on-its-feet feel and holding balance much better throughout the turn. We like the three-spoke steering wheel as well, with easy-to-reach buttons to toggle through the instrument cluster or modify the media settings.
The ride quality is also good, with excellent noise suppression over bumps and bridge connections, and very little vibration coming through to the cabin. Even with 19-inch wheels, the 235/55 tyres have decent sidewalls to absorb some of the initial bumps. And they obviously assist with off-road capability.
Speaking of which, the Edge uses a unique four-wheel drive system complete with a torque-vectoring rear differential. The driver can go through various drive modes (mud & sand, rock & dirt, and snow) to maximise the drivetrain's ability, depending on the conditions.
Although we didn't push the RAV4 through thick off-road conditions, we feel it is totally suitable for weekend camping trips and fairly serious dirt roads. With 195mm of ground clearance, and a 17.5-degree approach and 20.5-degree departure angle, it's obviously not designed for hardcore tracks, but neither are many rivals in this class.
Even so, really poorly maintained dirt roads and snow and sand shouldn't be a problem here. There is a clever surround-view camera system and front-view for the Edge, but we don't think the system is all that polished. The display doesn't allow you to pick the view or zoom, and the resolution looks poor. It is an innovative feature, nonetheless, especially for this class.
Under the bonnet is Toyota's new Dynamic Force four-cylinder petrol engine. There's no turbocharger, but with 152kW it is one of the most powerful naturally aspirated engines in this class. The peak power doesn't arrive until 6600rpm, which is very high for a modern engine. This gives you some idea of its character; it enjoys and indeed requires lots of revs to perform best. Interestingly, peak torque of 243Nm, although quite a low figure, is spread between 4000rpm and 5000rpm. Naturally aspirated engines don't usually offer a span of torque but instead peak at a specific rpm. So this does help with in-gear flexibility.
Matched up to the engine is also a bespoke component; an eight-speed auto. This transmission is not offered in any other variant, and we think this was Toyota's way of catering for enthusiastic drivers and off-road fans. It's a great move as we think CVT units can be very boring, even though they have proven to be more fuel efficient.
Unfortunately, the gear ratios here are spread very wide. It feels like first and second gears are stretched too long, and this seems to impact the 0-100km/h acceleration. We recorded a best time of 9.41 seconds, which is about average for a non-turbo petrol SUV in this class; our times for the 140kW Mazda CX-5 AWD 2.5L; 9.31 seconds, 126kW Nissan X-Trail FWD 2.5L; 9.66 seconds, 136kW Subaru Forester AWD; 9.76 seconds.
Unlike many turbocharged petrol engines, the RAV4's unit is able to run on 91 RON petrol which will save you money in the long run. The fuel consumption is pretty impressive for this class, with an official average of 7.3L/100km. We averaged around 8.4L/100km during our week-long test.
The official rating is better than the rivals mentioned above. But if it's pure economy that you want you can always step over to the AWD Cruiser Hybrid which offers an official average of just 4.8L/100km. You can check out our RAV4 GX Hybrid 2WD review here for more on that powertrain.

2019 Toyota RAV4 Edge – THE VIDEO
2019 Toyota RAV4 Edge – THE VERDICT
Not only is the new RAV4 a massive improvement on the predecessor in terms of driving dynamics, entertainment, safety technology, and cabin space, it also resets some of the class benchmarks in these areas. We really like the distinctive features of the Edge variant, including this cool Jungle Khaki soft green colour.
If you are in the market for a medium-size SUV, you really need to check out the new RAV4 before signing away on anything else. You might not like the styling or the fact there's no turbo option, but the packaging and cabin practicality will be considerably appealing. We've heard the waiting list for deliveries are quite long at the moment, but once this settles we're expecting some very high sales figures in the monthly VFACTS report. Could it overtake the famed Mazda CX-5? We'll have to wait and see.
PROS:
– Large and practical cabin, loads of standard features
– User-friendly driving character
– 'Edge' variant adds some distinction and excitement
– Finally an 8spd auto instead of CVT
– Good off-road capability (for this class)
– Solid build quality

CONS:
– Design takes some getting used to
– A bit slow for a flagship variant, engine needs to be revved high
As always, if you're thinking about buying a new car don't forget to click here to speak with our car buying specialists.