Tesla CEO Elon Musk has announced a power upgrade for the storming Model S P85D – already the world's fastest sedan.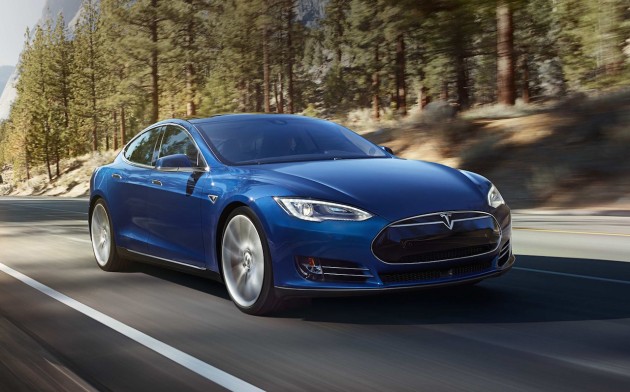 The announcement includes software and hardware tweaks that see the 515kW offered in current 'Insane' mode wound up to 568kW between the front and rear electric motors in a new 'Ludicrous' mode.
Called the Ludicrous Speed Package, the P85D now does 0-60mph (0-100km/h in 3.0 seconds) in a barely believable 2.8-seconds, on its way to a 10.9-second quarter mile. It also generates 1.1 g, making it "faster than falling".
Ludicrous mode will also be available on the Model X SUV, where its heavier mass and higher drag co-efficient sees it hit 60mph in a still gob-smacking 3.3 seconds. Explaining the update in a press conference, Musk said:
"While working on our goal of making the power train last a million miles, we came up with the idea for an advanced smart fuse for the battery. Instead of a standard fuse that just melts past a certain amperage, which means you aren't exactly sure when it will or won't melt or if it will arc when it does, we developed a fuse with its own electronics and a tiny lithium-ion battery. It constantly monitors current at the millisecond level and is pyro-actuated to cut power with extreme precision and certainty."

"The net result is that we can safely increase max amp throughout from 1300 to 1500 Amps. If you don't know much about Amps, trust me this is a silly big number of Amps to be going through something the size of your little fingernail.

"What this results in is a 10 per cent improvement in the 0-60 mph time to 2.8 secs and a quarter mile time of 10.9 secs. Time to 155 mph is improved even more, resulting in a 20 per cent reduction."
Musk also used the press conference to discuss details of a future successor to the Roadster that will be an in-house job rather than the Lotus-based original, featuring a performance mode above Ludicrous, tentatively referred to by Elon as "Maximum Plaid" for now.
The new Roadster will debut in four years, after the Model X, followed by the seminal Model 3 which the company hopes will penetrate the BMW 3 Series segment and dramatically increase the percentage of EVs on our roads.
The Ludicrous Speed Package is expected to become available in Australia, with upgrades available for soon-to-be P85D customers. Australian prices for P85D kick off at $148,000.