Looking to snatch some of the spotlight at the Seoul Motor Show, Kia has revealed an interesting four-door coupe concept called the Novo.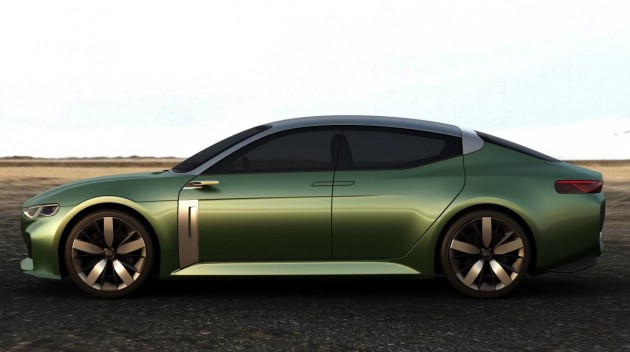 Kia says the Novo gives us a preview to the company's future design direction, specifically, for upcoming compact models. It takes on the fashionable four-door coupe shape while blending in some very futuristic elements.
The name Novo is derived from the Latin word novatus, which means renewed or refreshed. So, fittingly, the car displays a minimal front overhang, a fastback-style roofline, and a long and slim glasshouse area; all relatively unconventional in terms current production trends.
There's also triangular exhausts, rear-hinged doors, special diamond-cut alloy wheels in a two-tone carbon and silver finish, a modern interpretation of the brand's 'tiger nose' grille, and even laser headlights.
Inside, Kia describes the Novo concept as a "sanctuary from the frenzied world". There's a long and wide dashboard, with lashings of leather and aluminium throughout. In the instrument cluster there's a three-dimensional hologram display, with a 'blind control' touch pad system next to the steering wheel that allows drivers to use the functions without taking focus away from the road.
Under the bonnet sits a 1.6-litre T-GDI turbocharged four-cylinder 'Kappa' engine. It's matched up to a seven-speed dual-clutch automatic transmission. Acceleration figures haven't been mentioned but Kia says it offers "sporty performance" with impressive fuel economy.
In terms of production, there are no specific plans at this stage, however, as mentioned it does give us some clues as to what future compact models will look like. In a statement, Kia said,
"There are currently no plans to bring the Kia Novo concept to production, though Kia has a history of delivering production vehicles that bear a strong resemblance to concept vehicles that precede them. The Kia Novo concept provides a glimpse into Kia's plans for its future compact car line-up."