zRemember the Tesla Model S spotted at the Nurburgring last week? It seems a specially-prepared version may have just set a lap record around the circuit for a four-door electric vehicle.
In this latest spy video by autoevolution, we get to see two prototypes at the 'Ring. They aren't your typical Model S showroom models, however. Instead, they appear to feature widened wheel arches with lightweight wheels, and an extended rear lip spoiler.
The wheels, which look much wider than the factory items, apparently wear Goodyear Eagle F1 Supersport RS tyres which aren't even on the market yet. These super sticky tyres, as well as the other mods mentioned, mean the cars aren't exactly in production trim.
Even still, spy photographers standing trackside have apparently clocked a lap at the circuit in around 7:23. How can they time it? Well, standing near the official start line the spy photographers are able to listen to the vehicles as they hit the ripple strip on the exit of the final corner, which is pretty much bang on where the finish line lies.
Although a 7:23 time is hardly official, it does give us some strong indication of the potential. It's understood further attempts will take place on Wednesday or the upcoming weekend to finally lock in a time.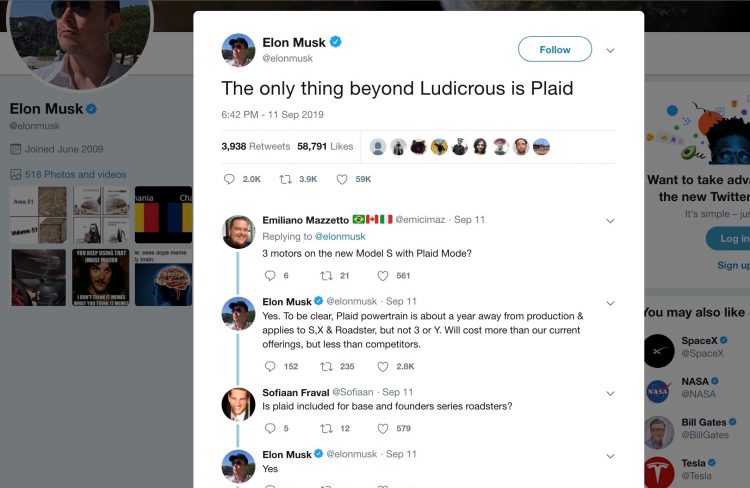 It's believed the prototypes are utilising an upcoming three-motor powertrain which company boss Elon Musk has labelled 'Plaid'. Fans of 1980s sci-fi film Spaceballs will recognise the term. The starship in the movie offered four speed modes; Light Speed, Ridiculous Speed, Ludicrous Speed, and Plaid Speed.
Elon Musk has confirmed the Plaid powertrain will be offered on the market for the Model S and X next year, as well as the new Roadster. Details on power and range are yet to be discovered, but it will likely offer significant increases over the existing P100D. On that note, the powertrain might be recognised by a new badge; P100D+.
A formal announcement on Tesla's official Model S lap time is expected over the next week or so. Elon Musk has said the company "probably won't try for best lap time this week…". And that was September 10. Check out the spy video below for more.