Ford UK has given out a little hint on things to come in the New Year with a season's greetings statement, releasing a teaser image of the next-gen, 2019 Ford Focus.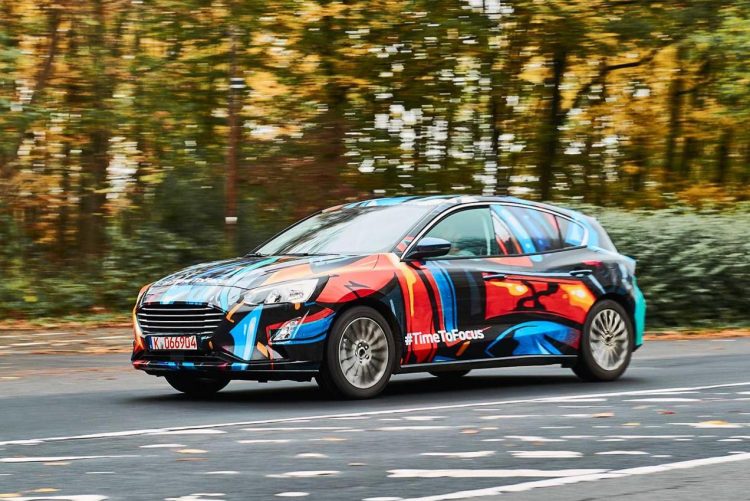 The company is planning a number of new models for entry in the market next year. One of the more exciting is a 331kW performance upgrade for the Mustang GT with the new model year, which is set to arrive in Australia in the New Year as well.
In the smaller car classes, Ford will launch the new Fiesta ST with its 1.5-litre turbo three-cylinder engine, producing 147kW and 290Nm (up from 134kW and 240Nm of today's 1.6T model), along with a crossover version of the compact hatch called the Fiesta Active.
One of the more important launches though will be the all-new Focus. Ford has sent out a number of prototypes to the UK, Germany, and the US for testing purposes, and we get the feeling some of these decorated prototypes are being sent out to gather attention.
As you can see by this example pictured, the production body appears to be all finished. It's covered in a colourful and disorienting wrap and features the hashtag #TimeToFocus printed on the side. You can just make out the new-look, slimmer headlight design, and the big new grille.
According to reports the new Focus will be slightly larger than the current model, with a longer rear door set to open up to a larger rear seat area. The dash is expected to incorporate a fresh design too, perhaps cleaner and less cluttered than the current dash, with the latest SYNC connectivity.
Exact timing for the new models is yet to be confirmed. As for Australia, there has been some worry the new Fiesta might not make it here at all, but the new Mustang will arrive later in 2018.