The legendary WRX STI is back for another year, coming in as the 2018 Subaru WRX STI. This is set to be the last of the current shape. If you've always wanted a new road-going rally car, now could be your last chance. And to spice up the MY18 range Subaru Australia has put together a new spec.R version, denoting some Recaro bucket seats inside.
Not much has changed over the past two or three years for Subaru's most potent road weapon. This could be seen as a good thing by the purists who love the rugged, hands-on, mechanical formula, with its gruff boxer engine and constant all-wheel drive system. However, stacked up against some of the more modern rivals that are popping up in this space, such as the Ford Focus RS and VW Golf R, the WRX STI can seem a bit behind the times.
Prices for the MY18 STI standard variant (without the big rear wing) start from $50,890, and go up to $55,640 for the Premium and then from $57,690 for the new, Premium-based spec.R. This shows the price has slowly climbed over the past three years, but only just, from around $49,990 for the base model in 2014 which featured the same engine only with fewer luxuries and tech.
Here we're testing both the Premium (blue car) and the spec.R (red car). The only thing that separates these two are leather seats for the Premium and Recaro suede seats for the spec.R. All other features and equipment are identical.
2018 Subaru WRX STI spec.R – THE SPECS
Engine: 2.5-litre turbo four-cylinder
Output: 221kW@6000rpm / 407Nm@4000rpm
Transmission: Six-speed manual
Drive type: All-wheel drive, Driver's Control Centre Diff (DCCD)
Wheels: F & R: 19×8.5, 245/35
ANCAP: Five stars (scored 35.85 out of 37)
Tare weight: 1532kg
Power-to-weight: 6.93:1 (kg:kW)
Official fuel economy: 11.2L/100km
Economy during test: 11L/100km
Fuel capacity/Type: 60L/98 RON
Power efficiency: 19.73kW:L/100km
0-60km/h: 2.60 seconds*
0-100km/h: 5.32 seconds*
60-110km/h: 4.24 seconds*
1/8 mile: 9.16 seconds at 127.0km/h*
1/4 mile: 14.11 seconds at 162.1km/h*
Max acceleration: 1.221g
100-0km/h braking: 2.87 seconds at 37.98 metres*
Max deceleration: -1.264g
Decibel at idle: 56*
Peak decibel at 60-100km/h: 87*
Priced from: $57,670
* Figures as tested by PerformanceDrive on the day. Factory claims may be different

2018 Subaru WRX STI – THE PACKAGE
Under the bonnet you'll find the same 2.5-litre turbocharged boxer engine as last year's model, and in fact pretty much the same since the 2014 model. It produces 221kW of power at 6000rpm, and 407Nm of torque at 4000rpm. These figures are quite impressive by today's standards, but the lack of breadth and power range does indicate the unit's age. Most new engines in this space offer a wider torque band and some offer a wide power band, too.
Fortunately for us driving fans the good old fashioned six-speed manual transmission remains. Subaru hasn't jumped onto the dual-clutch auto trend, and we're glad it hasn't fit its CVT auto here. From there the power goes into a stiff all-wheel drive system, with both the regular WRX and WRX STI getting a Torsen limited-slip differential at the rear for MY2018.
So, what has changed for the 2018 version? Well, Subaru has mainly concentrated on the handling and braking but it has fit a freshened up front bumper with new black mesh inserts. Front damping forces have been changed for the front struts with revised spring rates, while the rear gets similar adjustments and a thicker stabiliser bar. Braking performance is boosted with a set of Brembo six-piston front and two-piston rear calipers, clamping 340mm and 326mm cross-drilled discs. These, you may notice, are hidden behind some rather cool dark-painted 19-inch alloy wheels – the first 19s on a standard STI. The rims are wrapped in Yokohama Advan Sport tyres measuring 245/35.
Going for the Premium variant gets you a number of luxury-inspired items, such as heated and power-adjustable front seats (with memory in the Premium, not in spec.R), an electric sunroof, and the full suite of safety systems including lane change and blind-spot assist, rear cross-traffic alert, and Subaru's creative side-view monitor which lets you keep an eye on those rims when parking. Other than these features, the standard STI comes very well packaged as is.
We've always liked the latest WRX interior. Forward visibility is a real standout, with a low windscreen providing a clear view of the road ahead. Thin main pillars and no awkward shapes mean seeing around is easy, and you can peer through the big rear wing with no major issue. We found the Ultrasuede Recaro seats in the spec.R to be slightly more supportive than the regular Premium leather chairs, and they can be lowered down further for those who like a low seating position.

2018 Subaru WRX STI – THE DRIVE
All 2018 STI models come with the Driver's Control Centre Differential (DCCD) which allows you to adjust the torque bias from front to rear. Flipping from the central/default setting to the most rearward setting is about the only time you'll notice the difference between any setting (it's not 100 per cent rear-wheel drive, by the way). Pushing hard in the bends the central setting seems to persuade understeer, on the tarmac. On loose surfaces such as dirt it is definitely the more confident and predictable setting to go for. In the central mode you can feel the driveline's tension, which is a typical trait of AWD manual Subarus anyway. However, flicking to the rearest setting seems to remove some of the clunkiness during slower speeds and when taking off.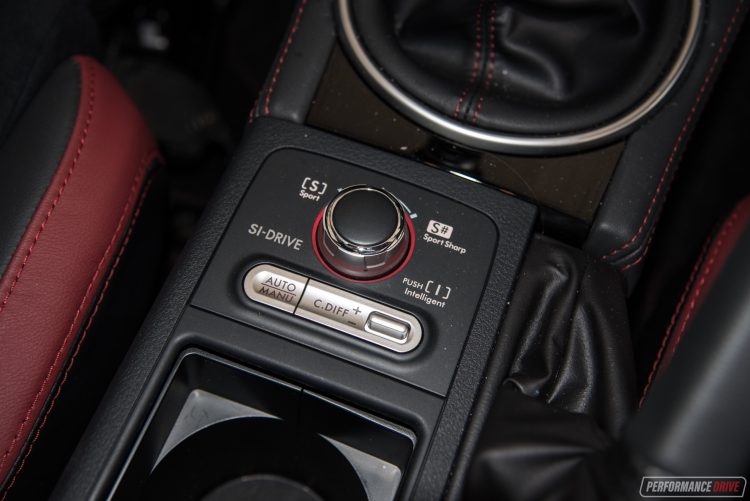 Around town there's no mistake the WRX STI is a pretty hardcore vehicle. The suspension is firm and causes the rear wheel to cock up into the air entering driveways, and slower speeds, shifting around first and second and back to first in traffic, can be tiresome. Fortunately, the steering and that awesome visibility does help to calm your mood. A mood, from you and the car, that just wants to get out into the country and toss through the gears at a much faster tempo.
This is where the WRX STI was designed to be. It is a practical car with a decent boot and good interior space in all seats for this segment, but in the end this is a serious performance car. One that loves to be driven hard. When driven in this way the STI is a lot more rewarding.
Along our usual, demanding mountain road test route the MY18 STI shows its improvements, with the revised suspension doing better to keep all wheels firm on the ground. The suspension might be stiff around town but attacking tricky roads with mid-corner bumps, it really excels. There's no bump-steer or anything like that. You can simply flatten the throttle and enjoy 18psi of turbo pressure propelling you along. There's no wheelspin to speak of, at all, even if you come into a tight corner, blip the throttle back to second, and nail it at 4500-5000rpm just before the apex. It just grips up and rips you around the corner. Again, we found the rearward centre diff setting to be the most pleasurable in these moments. The strange steering column shudder and click we experienced in the previous model remains, although it doesn't affect performance.
On the dirt it performs even better. There's seemingly no loss in traction. The mechanical grip, especially in the central diff setting, is amazing. Exiting low speed corners and applying full power won't really spin the tyres. You might get a moment of hesitation as the grip is sorted, but after that it flings you along. Only when you tip it in aggressively, using momentum to purposely unsettle the grip, will the tail kick out. From there you can apply full power, centre the steering and enjoy some four-wheel, zero-counter-steer drift. This is its natural habitat. And you can immediately tell, it loves it. It wants you to stay on the dirt and keep pressing on.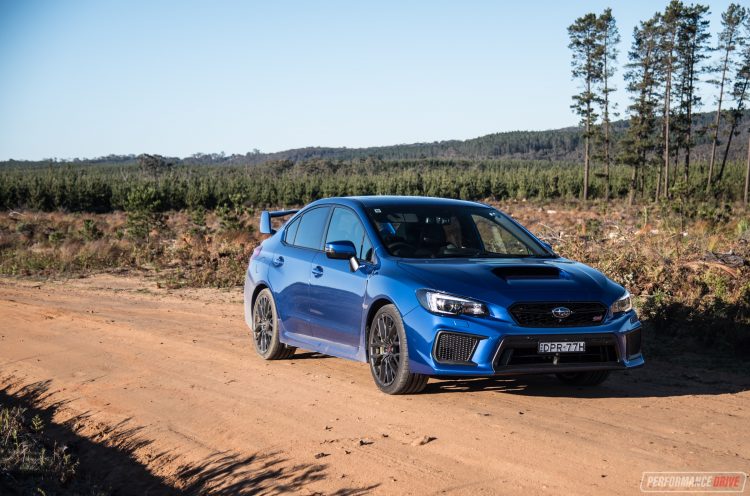 As for that ol' engine. You'll have to get used to turbo-lag up to about 2700rpm, but from there it provides strong mid-range punch and a great feeling of torque. Anything over 400Nm is pretty darn impressive for a four-cylinder, and that's where the 2.5-litre capacity comes in. You can travel around roundabouts and right-angle turns, in normal conditions, and leave it in third. It will pull through so long as you don't fall too far below that 2700rpm threshold.
Across the usual 0-100km/h sprint we timed a best of 5.32 seconds, which is a fraction slower than the last model we tested. The new model does weigh about 30kg more, but other than that we can't really explain the slower time (Subaru claims 5.2). It is very difficult to get off the line. If you don't dial up enough revs it will bog down quite easily. Too many revs and you'll burn the clutch. This latter method proved quickest for us. We guess it's one of those cars that doesn't do well across 0-100km/h specifically (compared with some), but it doesn't mean it's slow. Across other areas of acceleration the engine feels strong, very capable, and it loves to rev to its 6800rpm redline cutoff. Interestingly, we timed a 0-100km/h sprint on the dirt, just for fun, and it stopped the clock in 5.73 seconds.

2018 Subaru WRX STI – THE VIDEO
2018 Subaru WRX STI – THE VERDICT
Like our old friend the Mitsubishi Lancer Evolution, the WRX STI is part of an elite group of rally-bred road cars. The segment has seen plenty of changes over the years, morphing into a more practical, family-friendly class of car. Hot hatches have become more comfortable for everyday use, and actually quicker across the 0-100km/h sprint. But does that mean old dogs like the WRX STI aren't capable or worthy?
Definitely not. Their true calling remains at the track and galloping through the forest in rally stages. If you are serious about track days or even racing, the decision is easy. You need one of these. If you just want to prance around on the streets and zip between the traffic lights, you should probably turn to one of the savvier rivals such as the Golf R.
As for which variant we'd go for, the standard STI is the pick. The Recaro seats in the spec.R are nicer than those in the Premium, so if you have the money we'd recommend stretching past the Premium to the spec.R. But all in all the regular version is just as capable and perhaps better suited to track use or racing.
PROS:
– Mechanical grip & AWD system
– Rock-solid build quality
– Outward visibility from the cabin, easy to place on the road
– Rally car design stands out among rivals
– Pleasant and user-friendly interior

CONS:
– Fuel consumption (by today's standard)
– Turbo-lag below 2700-2800rpm
– Not as quick as more modern rivals
As always, if you're thinking about buying a new car don't forget to click here to speak with our car buying specialists.