Tesla has released a blog post detailing its future-thinking plans for the Supercharger network in an Australian context.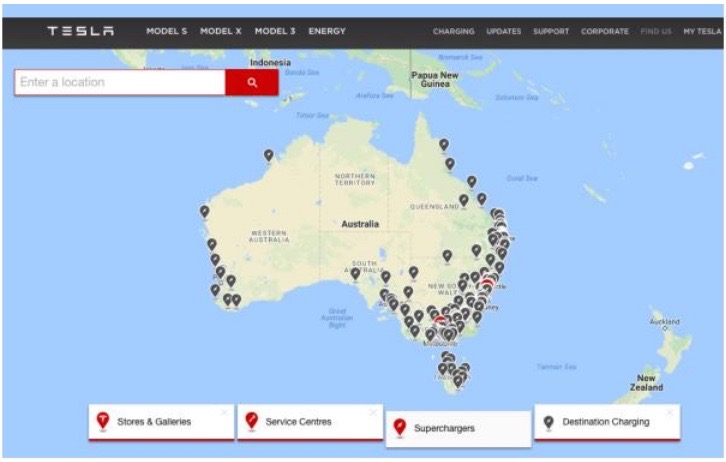 The post, which can be read in full here, explains that Tesla is looking to improve and expand the Supercharger network in Australia, saying that one of its "top priorities this year is to significantly increase capacity of our Supercharger" network.
In November, Tesla announced changes to the pricing structure of the network, which the company says "allows us to reinvest in the network, accelerate its growth, relieve congestion, and bring all Tesla owners, current and Model 3 the best Supercharging experience."
Model S and Model X units purchased after January 15 this year will receive a package including 400kWh-worth of free Supercharging credits. 400kWh is equivalent to 1600km, according to Tesla. These credits will be renewed on the anniversary of the vehicle's purchase.
The 400kWh figure is, according to Tesla, more than adequate to "cover the annual long-distance driving needs of the majority of our owners," Tesla says.
Once a vehicle passes this 400kWh figure, owners will be "charged a small fee" to Supercharge. Tesla notes that in the U.S., pricing is fixed within each state or province, and overseas, the price is fixed within each country.
Tesla's current Supercharger network allows a customer to drive from Brisbane to Melbourne, solely on Tesla's network. Tesla says that a trip between Sydney and Melbourne equates to around $38.00.
The company is looking to expand its charging infrastructure here in Australia, but hasn't released specific details.
Buyers of the Model X SUV are set to start receiving deliveries this year, putting further load onto the network, while the Model 3 mid-sizer is expected to arrive locally later in 2018.