The covers are off Skoda's sharp three-row-seat VisionS concept, which appears to be a size larger than platform-mate Volkswagen Tiguan.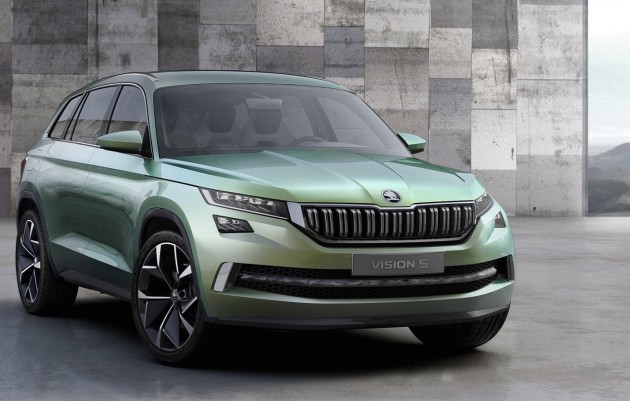 At 4.7 metres long by 1.91m wide by 1.68m high, the Vision S presages a cavernous seven-seater in much the same way the Superb offers more room than the Passat.
On the engine front, a 114kW 1.4-litre petrol engine combines with a 40kW electric motor in the front, plus an 85kW one for the rear, registering a combined output of 165kW. Acceleration from 0-100km/h takes 7.4 seconds, with a 200km/h top speed.
Carbon emissions are 40g/km, which is very impressive for a vehicle of this size. Range for the hybrid Czech is 1000km, or 50km on electric power alone. On the combined cycle the company says it uses 1.9L/100km.
The styling features distinctive creases and a striking front visage to distance itself from its German sister, with the company's latest grille design. There's also a cool pearl green colour scheme, perhaps highlighting its eco underpinnings.
As for a production version, it is likely to inspire something for the showroom in the very near future. In a statement, the marque said:
"Over recent years Skoda has completely renewed its model range and the next phase will involve broadening the range of models in the SUV segment. With the Skoda VisionS, the Czech car manufacturer gives an insight into how Skoda's future SUV design language might look."
Versions on offer when the production model debuts, expected around 2018, are set to include a plug-in diesel hybrid, along with two-wheel drive and all-wheel drive options.
The VisionS will make its public debut at the Geneva Motor Show, starting March 1.