One of the most dramatic, sleek and powerful supercars of the 1990s appears to be making its way to a Sydney dealership for purchase by a lucky person.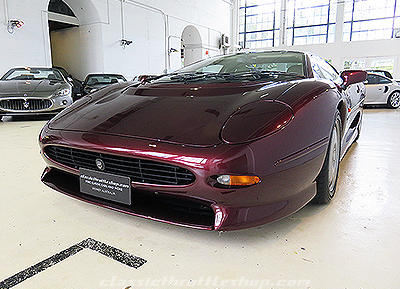 This maroon 1993 Jaguar XJ220 is an example of what was once known as the fastest production car in the world, with a top speed of 350km/h. Some of us (including yours truly) might remember the XJ220 from video games such as Need For Speed II:SE of 1997, where it was showcased in a video.
This wide and sleek cat has cream upholstery and carpet, as well an Alpine CD changer/amplifier in the boot. It only has 904 miles (1454km) on the odometer, which means it's basically brand new.
Designed by TWR in the late 1980s as a concept, it was initially conceived with a V12 and all-wheel drive powertrain, but by the time it reached production, it had a 3.5-litre twin-turbo V6 from the Metro 6R4 Group B rally car instead, and rear-wheel drive. The unit produces 400kW and 644Nm, fed through a fix-speed manual.
As the XJ220 is only one of 221 total cars built, and the amount of those in Australia you could count on a single hand, you can bet its price will have seven figures, possibly even beginning with a two. Check out Classic Throttle Shop for more pictures and details.