BMW has revealed the facelifted 2012 BMW X6 and 2012 BMW X6 M, just after unveiling the new M Performance Automobile tri-turbo diesel lineup.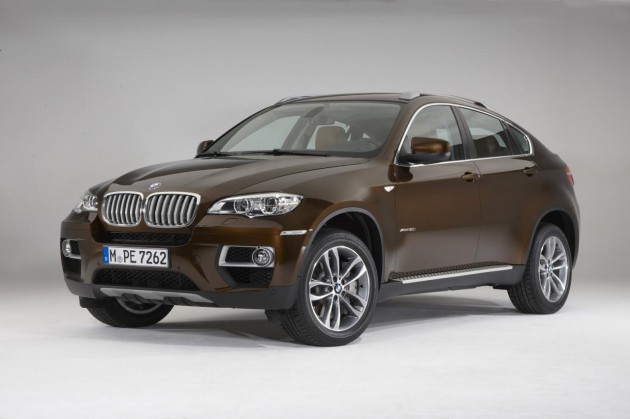 Only minor tweaks have been made to the BMW X6 for the update. It comes with a slightly revised front bumper bar with relocated and redesigned spot lights, now featuring matt surrounds.
Also at the front, there's optional new LED headlights, and more angled lower bar sections that emphasise the traditional BMW centre grilles. The bottom of the grille now runs more consistently with the lower edge of the headlights too for a wider, horizontal flowing look.
Under the bonnet, the same engine packages remain. Starting with the xDrive30d, it features a 3.0-litre straight six turbo-diesel producing 180kW, while the higher output xDrive40d produces 225kW.
There's also two petrol version, starting with the xDrive35i, featuring the 3.0-litre turbocharged straight six producing 225kW, and the flagship model, the xDrive50i, which gets the un-tuned version of the M5 4.4-litre twin-turbo V8, producing 300kW.
The new performance versions from M Division consist of the just-unveiled BMW X6 M50d, with the new triple-turbo diesel straight six producing 280kW and 740Nm – capable of 0-100km/h in 5.3 seconds – and the new 2012 BMW X6 M.
The X6 M gets the same 4.4-litre twin-turbo V8, producing 408kW and 680Nm, carried over from the existing model. It's able to crack 0-100km/h in just 4.7 seconds.
Fuel consumption ratings are as follows:
X6 xDrive30d – 7.4/100km
X6 xDrive40d – 7.5L/100km
X6 xDrive35i – 10.1L/100km
X6 xDrive50i – 12.5L/100km
X6 M50d – 7.7L/100km
X6 M – 13.9L/100km
The 2012 BMW X6 facelift will go on sale in Australia just after the middle of this year.