A prototype of what looks to be a Cadillac CT6 has been spotted in Australia, further fuelling rumours of the Cadlilac brand making its way Down Under in the near future.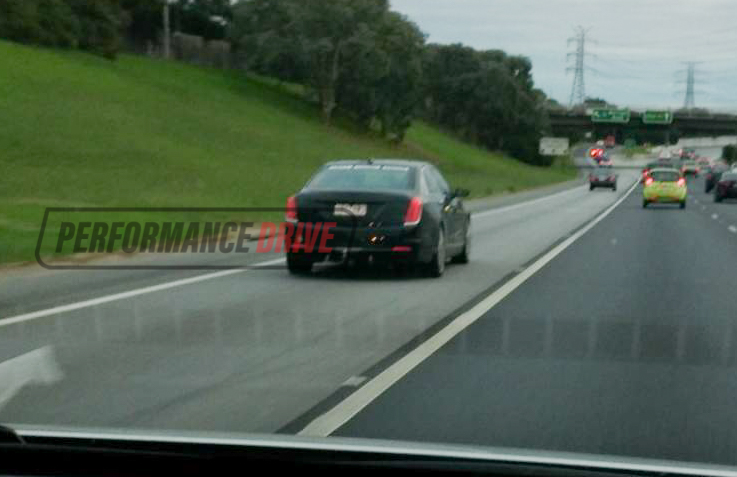 Once the locally-made Holden Commodore goes out of production later this year, the buying public and many government, taxi, and hire car services will be left without a relatively affordable large luxury vehicle.
If GM finds there is a business case for the Cadillac brand to enter Australia, these buyers could be remunerated with a similar layout as our Commodore and Statesman with Cadillac offerings.
This prototype, featuring large 'left-hand drive' lettering on the back, is likely owned by GM, with engineers potentially testing various elements of the car on Australian roads.
The car was spotted by PerformanceDrive reader, Daniel, today on the Monash Freeway in Melbourne. If you squint your eyes enough it does resemble the CT6. Daniel tells us he saw distinct vertical headlights when the car approached, although he didn't get a chance to photo it.
The CT6 features a long strip of LED daytime running lights, with a separate headlight assembly. Around at the back are similarly vertical taillights, which can be seen in these spy images.
Cadillac boss Johan de Nysschen told media at the Geneva motor show last month that right-hand drive is a key requirement to become successful in Europe, suggesting right-hand drive could be in the works from the American brand. He said:
"Right-hand drive is a key requirement to be a high-profile brand in Europe and you simply cannot do that if you don't enter the UK market. Once you've entered the UK market, well obviously you've just unlocked the first big hurdle to entry into some of the right-hand-drive markets; Japan, Australia, South Africa."
A decision could be just around the corner now, especially with the Commodore's demise in October approaching very fast, and the fact local testing is at least underway to some capacity.