Following a little teaser earlier this week, Porsche is now showing the full interior of the upcoming Taycan electric sports sedan/coupe. This is just ahead of the car's reveal next week.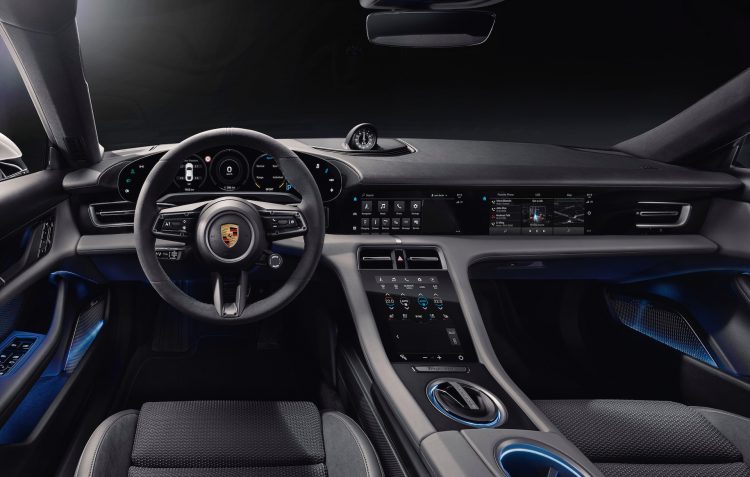 The Porsche Taycan interior presents passengers with a modern interpretation of the classic Porsche design, with a "less is more" philosophy applied to minimise clutter and distraction. Porsche says the original inspiration was drawn from the 1963 911, with a straight-edged dashboard providing a sense of width and simplicity. The straight edge is only interrupted by the instrument cluster, like on the original, which is clearly focused towards the driver.
Looking around the place you'll probably notice there is a lot of digital tech going on in here. Despite taking the shape of a traditional instrument binnacle, it's actually a 16.8-inch curved screen with rounded-look displays to make that link to classic models. It's encased in real glass that's been vapour-deposited and infused with a polarising filter to minimise glare and reflection.
Drivers have the option to toggle through four display modes for the instrument cluster, including Classic, Map, Full Map, and Pure. These all present a distinct display theme. Right at the edges of the screen are unique touch-operated controls, such as for the headlights and chassis modes.
For the main centre of the dash there's a 10.9-inch infotainment display with an optional passenger display. These are combined in one integrated glass panel for that seamless look. And then down on the centre console there's another touch-screen measuring 8.4 inches, featuring haptic feedback. This lower panel is for the climate control and navigation inputs and so on.
Lastly, buyers will of course be able to option for various trim and colour combinations for the cabin. From traditional to modern and sustainable materials, there's an option for all. For example, you'll be able to opt for a Race-Tex material which is made from recycled polyester fibres, while the floor can be covered in Econyl, made from recycle fibre such as fishing nets.
Porsche Australia has confirmed the Taycan will be offered locally. It will come in as Porsche's first electric vehicle, featuring a powertrain that develops over 440kW and provides a range of over 500km. All will be revealed on September 4.