BMW has revealed the new 2019 BMW 330e plug-in hybrid, based on the fresh G20 3 Series. It brings in some new technologies and a sporty 'XtraBoost' function.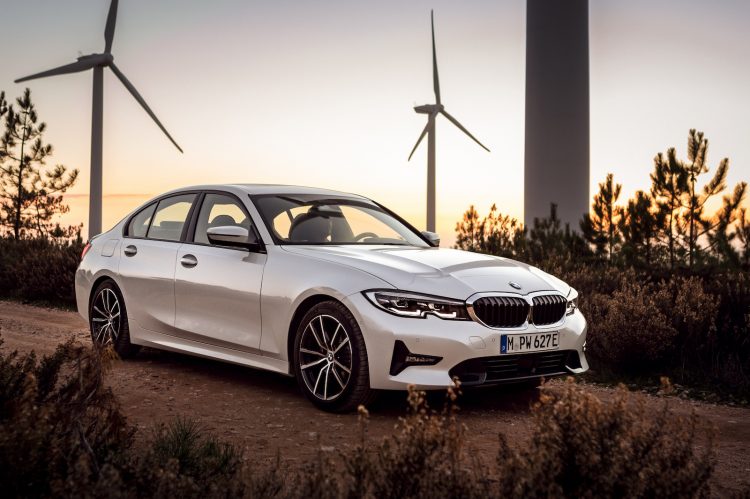 Power continues to come from a 2.0-litre turbo-petrol four-cylinder engine that, on its own, produces 135kW. This is supplemented with a 50kW electric motor system that takes the overall output to 185kW. However, a first-ever XtraBoost function provides up to 30kW more for short periods.
Across the standard 0-100km/h sprint BMW claims the clock stops in 6.0 seconds. This is improved from 6.1 in the outgoing model. Also improved is the fuel consumption on the combined cycle. It drops from 2.1L/100km down to just 1.7L/100km.
Part of this excellent economy is the 330e's ability to run on electric power alone. For the new model, in this mode the driver can travel at up to 110km/h, which is up 30km/h on the predecessor.
Like the predecessor, the new 330e uses an eight-speed automatic transmission with rear-wheel drive. However, the transmission also houses the electric motor component to save space. In fact, the transmission is just 15mm longer than the regular eight-speed auto featured in other 3 Series models.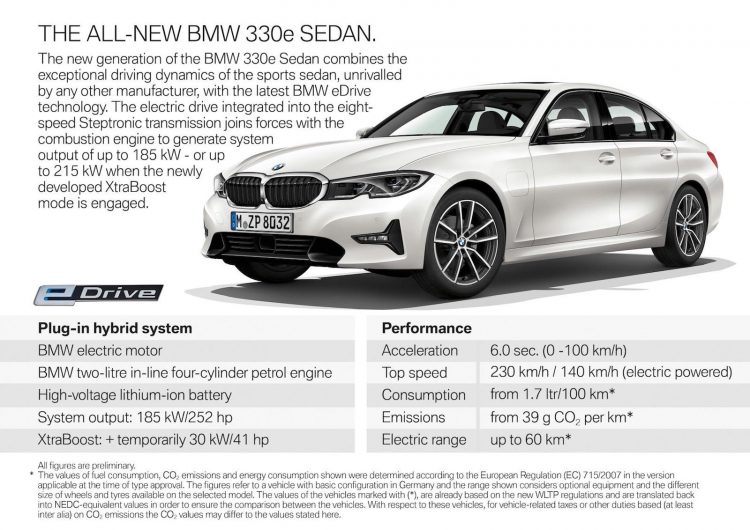 Electric energy comes from a 12kWh lithium-ion battery that helps to provide an electric-only range of about 60km. The range is up 50 per cent on the outgoing model. Energy recuperation occurs during braking, or owners can plug the vehicle into a charging station for a top up.
Compared with the regular 3 Series, BMW says the boot space is only "slightly restricted" in the 330e. It offers a storage volume of 375L, and this can be expanded via the 40:20:40 split-fold rear seats. The battery system is mounted beneath the rear seats while the fuel tank is positioned above the rear axle.
BMW will be offering the 330e in a range of trims, similar to the regular models. This means Luxury Line, Sport Line and M Sport will be available, as well as a range of personalisation options.
Market launch for the new model is scheduled for the middle of 2019. Details regarding the Australian launch are yet to be finalised.