The show-stopping Opel GT rear-wheel drive coupe concept from this year's Geneva Motor Show stands a chance for production, if a report out of Autocar is to be believed.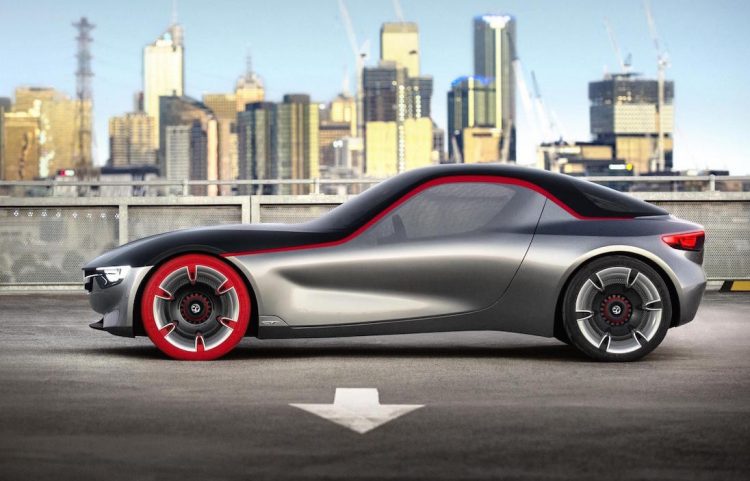 The show car, which showcased design elements for future Opel, Vauxhall and subsequent Holden models, is a smaller-than-Toyota-86 sports car, with rear-wheel drive and a 1.0-litre three-cylinder turbo engine. It drew widespread applause thanks to its visual simplicity and arresting colour scheme.
At this year's Goodwood Festival of Speed, Vauxhall managing director spoke a few somewhat encouraging words to the British publication, saying:
"We're still looking at it, but for production we have a very busy next few years and making a small coupe a priority will be difficult."
Affordable sports cars have enjoyed something of a resurgence lately, but they are still a relatively niche product. Toyota teamed up with Subaru for the 86/BRZ. Fiat with Mazda for their 126 Spider/MX-5, and BMW and Toyota for the upcoming Supra/Z5.
GM doesn't have a partner, or an existing rear-wheel drive platform smaller than Alpha, so one idea they're toying with (according to an insider), is starting with the Opel Mokka's (Holden Trax) rear subframe and differential and working around that.
Alongside the GT concept (with a Vauxhall badge) on show at the Goodwood Festival, were the 1960s Vauxhall XVR and Opel Experimental; two cars which sired the original Corvette-inspired Opel GT, and GM design head Ed Welburn's "favourite era for car design".