Holden is gearing up to launch the all-new, mostly un-Australian 2018 Holden Commodore in February. And to build some interest it has announced the starting prices.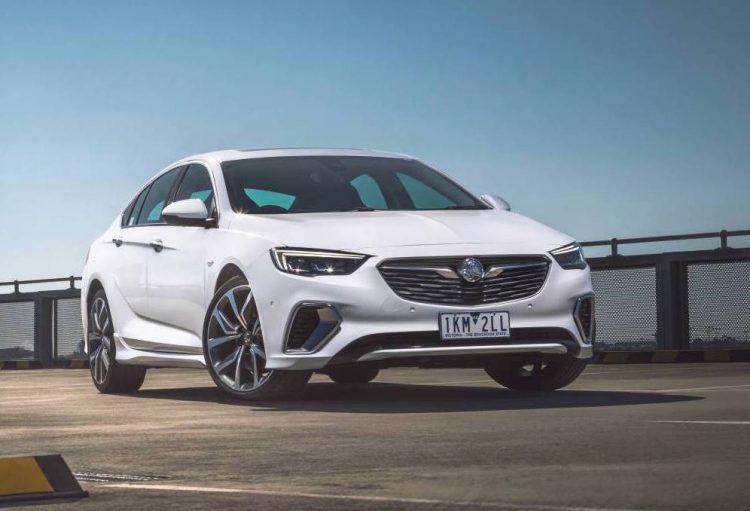 Six different variants will go on sale in Australia, as well as three Sportswagon models and two Tourer crossover-like variants. These are split up by two main engine options, including a 2.0-litre turbo-petrol four-cylinder and a 3.6-litre naturally aspirated V6. All V6 versions come with all-wheel drive, while the turbo uses front-wheel drive (the first ever FWD Commodore).
Kicking off the range is the LT, which comes with the turbo engine that produces 191kW and 350Nm. Stepping up to the Calais-V gets you the V6, which produces 235kW and 381Nm. A 2.0-litre turbo-diesel will also be optional – according to the official brochure (below) – in the LT and standard Calais, producing 125kW and 400Nm.
At the top of the range is the VXR. It comes with the V6 as standard, along with a bunch of performance highlights including adaptive dampers, Brembo front brakes, and adaptive all-wheel drive. It also gets LED headlights, 20-inch alloy wheels, and a sporty bodykit with unique front and rear bumper bars.
The VXR effectively (or ineffectively, depending on your view) comes in to replace the iconic V8 SS Commodore. In today's statement, Holden says the SS badge is being rested "for the time being", suggesting it may return some time in the future. Holden's executive director of marketing, Mark Harland, said:
"The next-generation Commodore is a stunning vehicle that's already getting rave reviews in Europe in Opel Insignia guise. It looks sleek and sporty on the outside, while inside it's refined and sophisticated with intelligent use of premium materials and a long list of user-friendly high-tech features like Adaptive Cruise Control, Apple CarPlay/Android Auto and wireless phone charging."
The new range will arrive in dealerships from late February, with prices starting from the following (excluding on-road costs):
Liftback (sedan)
2018 Holden Commodore LT 2.0-litre turbo – $33,690
2018 Holden Commodore Calais 2.0-litre turbo – $40,990
2018 Holden Commodore Calais-V V6 AWD – $51,990
2018 Holden Commodore RS 2.0-litre turbo – $37,290
2018 Holden Commodore RS V6 AWD – $40,790
2018 Holden Commodore RS-V V6 AWD – $46,990
2018 Holden Commodore VXR V6 AWD – $55,990
Sportwagon
2018 Holden Commodore LT 2.0-litre turbo – $35,890
2018 Holden Commodore RS 2.0-litre turbo – $39,490
2018 Holden Commodore RS-V V6 AWD – $49,190
Tourer (high-ride)
2018 Holden Commodore Calais Tourer V6 AWD – $45,990
2018 Holden Commodore Calais-V Tourer V6 AWD – $53,990