Nissan has unveiled the interesting Gripz concept at the Frankfurt Motor Show, hinting at a possible direction for a future Z sports vehicle.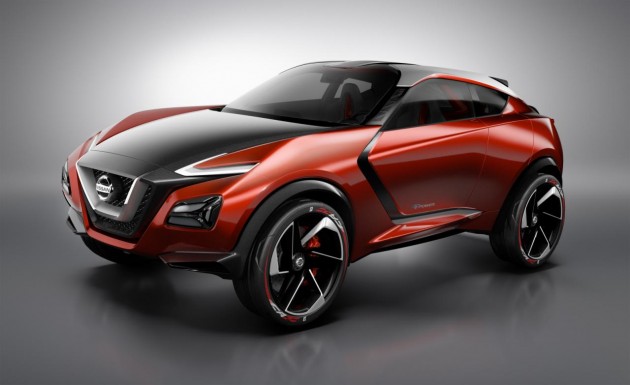 The Gripz is being described as a "dual personality" vehicle due to its "high-tech simplicity" personality, featuring an exposed carbon fibre frame inspired by a racing bicycle. It does look quite outlandish but Nissan says it does preview its new 'emotional geometry' design language.
At the front you can see the more traditional V-motion grille, although a very exaggerated 3D version of it with multiple layers, which directs focus to a set of thin LED boomerang headlights.
From the side, the Gripz offers the silhouette of a sports car, inspired by the iconic 240Z safari rally cars of the 1970s. Nissan says the 240Zs proved sports cars didn't have to be low to the ground to be fun, suggesting it might turn to a crossover layout for an upcoming Z car.
In the engine bay is EV-based technology comprising of a Pure Drive e-Power system. A small petrol engine provides power to an electric motor, in fact the same motor that is found in the LEAF EV hatch. Outputs haven't been mentioned.
Inside, the cabin offers 2+2 seating, accessible via rear-hinged half-doors and front doors that swing out and up. There is a sporty mix of matt grey and orange-red highlights spread throughout the interior, with seats and the centre console inspired again by bicycles.
Nissan has no plans to put the Gripz into production any time soon, however, Nissan is using the Frankfurt show debut to gauge the public's reaction on the design. Shiro Nakamura, senior vice president and chief creative officer, said,
"Nissan pioneered the idea of the compact crossover, and this is reflected in the enormous popularity of Qashqai and Juke and the resulting growth of the market segment as other manufacturers play catch-up. While the Nissan Gripz Concept is not seen as a direct replacement for either of those two iconic vehicles, it does show the extremes to which the compact crossover can be pushed."