The new-look 2015 Holden Cruze has landed in Australia, bringing updated styling, more technology, and a freshened up interior for some variants.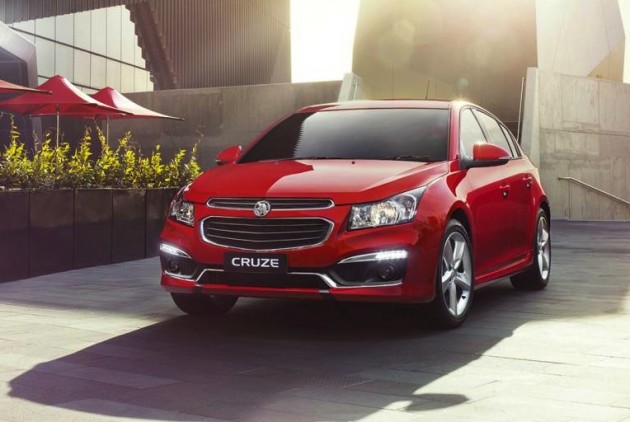 With Holden closing down local manufacturing by 2017, this latest update could be the last Australian-made Cruze and thus the last Australian-made small car we ever see.
For all variants there's a new-look front end which is now more in line with Chevrolet's global design language. You'll notice the twin grille design and LED daytime running lights at the front. The base model Equipe also benefits from 17-inch alloy wheels, with all models getting updated side mirrors with integrated indicator lights.
Stepping up to the SRi-V sees updated 18-inch alloy wheels, auto wipers, and some luxury suede seats. The SRi-V also now comes with a remote start function allowing owners to start the car and kick off the air-conditioning before actually entering the car.
Sitting in the middle of the range is the CDX sedan. It comes with satellite navigation with voice command and live traffic updates, as standard, for added convenience. The system continues to be offered with the SRi-V, along with a reverse parking camera.
As for the powertrain options, just two units are available now. There's the 1.8-litre naturally aspirated four-cylinder producing 104kW and 175Nm, and the 1.6-litre turbo-petrol developing 132kW and 230Nm. The higher-output 1.6 is featured in the SRi and SRi-V.
At the moment the updates are only for the sedan and hatch layouts, with the wagon set to receive similar revisions in a few months. Most prices remain unchanged from the outgoing version. It officially arrives on January 20. See below for the prices and changes where applicable (excluding on-road costs):
2015 Holden Cruze Equipe 1.8 manual – $19,890
2015 Holden Cruze Equipe 1.8 auto – $22,090
2015 Holden Cruze CDX 1.8 auto – $24,840
2015 Holden Cruze SRi 1.6 manual – $23,140 (up $250)
2015 Holden Cruze SRi 1.6 auto – $25,340 (up $250)
2015 Holden Cruze SRi-V 1.6 manual – $27,140 (up $250)
2015 Holden Cruze SRi-V 1.6 auto – $29,340 (up $250)