Joining a long list of celebrities who have bunged up an ultra-expensive supercar, Tyga has just crashed his stunning white Lamborghini Aventador. The US rapper wasn't shy about the incident, posting some images of the wreck to Instagram soon after the incident.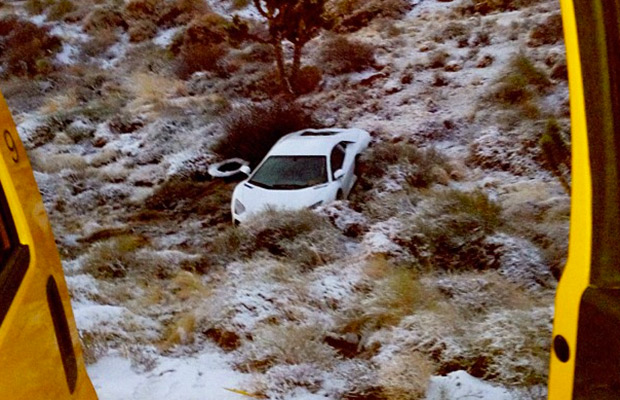 In Australia, the Lamborghini Aventador – the flagship Lambo – is on sale from $754,000. It comes with a 6.5-litre naturally aspirated V12 engine churning out 515kW of power and 690Nm of torque. There' no doubt it is one of the quickest factory machines in the world.
Knowing how ferociously powerful it is, and the fact it can sprint from 0-100km/h in just 2.9 seconds, you'd think most who drive it would take a bit of care.
Tyga, on the other hand, appears to have suffered some difficulties driving the beast in less-than-ideal conditions. It's unknown where the crash took place, but it does look rather deserted and covered in snow.
It's understood nobody was hurt in the crash. Tyga simply said, "Just crashed my lambo. Thank God for the seatbelt".
As for the Aventador, it doesn't look too badly damaged, however, judging by the surrounding terrain, the underbody is likely to be kaput. Luckily for Tyga (real name Michael Ray Ngyuen-Stevenson) he can probably afford to buy another one at any time.