Although it isn't expected for some time yet, 2017 in fact, some more details are coming through on the next generation Nissan GT-R, including speak of a hybrid powertrain to help cut emissions and fuel consumption.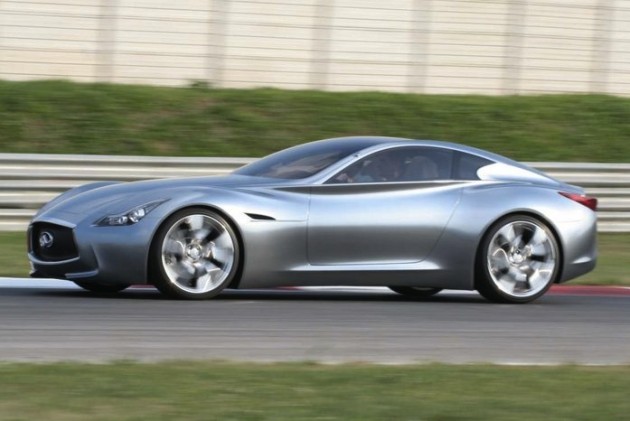 (Infiniti Essense concept shown)
The current 2013 Nissan GT-R (on sale in Australia on February 1), although extremely quick (0-100km/h in 2.7 seconds), does come at a fairly hefty price other than the showroom cost; an official average fuel economy of 11.7L/100km.
According to a recent Motor Trend report in the US, Nissan engineers are looking to meet the demands of the market and tightening emissions regulations for the next all-new GT-R. So far three powertrain possibilities are said to be under consideration.
The first is a modified version of the V8 hybrid that propels the Infiniti M35h. It features a 3.5-litre petrol V8 paired with an electric motor, producing a combined output of 268kW. Obviously power for the next-gen GT-R would dwarf that figure by quite a margin.
Another possibility is a hybrid version of the 3.7-litre twin-turbo V6 found in the Infiniti Essense concept car (pictured). In the concept, power levels are up at a much more GT-R-like 440kW.
Either of these options will require hard work from engineers to keep weight to a minimum, especially with the already relatively heavy GT-R foundations.
The third avenue Nissan may go down is a 'turbo compressor and generator setup'. This could involve adding a motor to a similar version of the current GT-R running gear, with the motor incorporated into the rear differential.
Whatever option Nissan goes for, the new model is very likely to feature technologies such as stop-start and cylinder-deactivation to further boost economy.
As mentioned, a new GT-R is still some time away. It is good to know Nissan is going to continue to offer the performance icon though, even in this day and age of industry-changing environmental laws and restrictions. The report says at least two more model updates based on the current version will be released before an all-new model.