Hyundai has revealed more details and images of the anticipated new IONIQ hybrid sedan, before its Detroit show debut next week.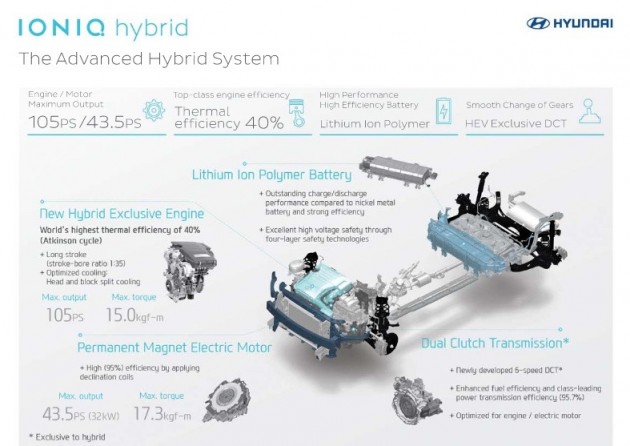 This is Hyundai's first-ever dedicated hybrid model, so it's a rather big deal. Think of it as like Hyundai's answer to the ever-popular Toyota Prius. It will be available in electric, plug-in hybrid, and hybrid form, all sharing the same body, unlike the Prius which is only available as a hybrid.
In the latest teaser, the company has shed some light on the underpinnings of the new model, including a detailed infographic showing the workings of the powertrain and the architecture. The latter of which is made from something called Advanced High Strength Steel (53 per cent), while the remainder is lightweight aluminium.
Hyundai says the IONIQ was created with dynamic ride and handling at its core, which apparently "sets the IONIQ apart from other hybrid vehicles". The batteries are placed low and forward for a low centre of gravity, with dual lower arm multi-link suspension for the rear.
In hybrid form it's powered by a 1.6-litre petrol engine generating 77kW, with 32kW added in the form of an electric motor. This will be the first version to hit the market, coming equipped with a six-speed dual-clutch automatic.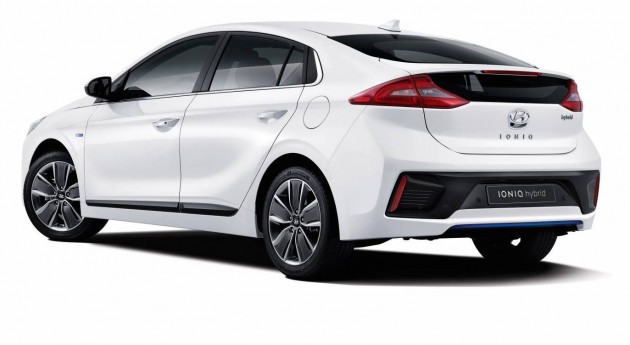 A plug-in version and a fully electric model will also be added, making it the first vehicle in the world to be offered with all three forms of powertrain option in the one body.
Specific details on performance and economy are yet to be revealed, however, Hyundai has released an image giving a clear view of the rear end. There's also an image revealing the interior in full.