The conditions in the hot hatch segment are harsh and unforgiving at the moment, especially with desirable newcomers popping up from all parts of the world. One of the newest arrivals is the 2012 Opel Astra GTC Sport. It's offering German quality and precision, matched with a friendly price tag thanks to its General Motors parents.
2012 OPEL ASTRA GTC SPORT – PROS AND CONS
PROS:
Unmistakably solid German build quality
Great design, especially for a conventional hatch
Excellent price tag for the top-spec 'Sport' (from $34,990)
Innovative interior features and functions
Surprisingly good handling; well balanced suspension, and loves to be pushed
Brakes take repeated abuse and provide substantial bite
CONS:
Long and heavy doors
Engine down on power and torque compared with key rivals, 1435kg kerb weight doesn't help
Overwhelming arrangement of buttons on the dash
Needs to be serviced at Opel dealership; only 17 in the country at the moment
2012 OPEL ASTRA GTC SPORT – OVERVIEW
The last time we tested the GTC was at the Australian launch event. We only had a few hours behind the wheel. After living with it for a week, we can now provide a more complete evaluation on the internationally well-received funky hatch.
As previously reported, the GTC Sport is the two-door coupe/hatch version of the new Astra (full review of that coming soon). The GTC comes in two trim levels; the GTC and the GTC Sport.
Differentiating between the Astra and the Astra GTC doesn't just end at the door count. The GTC also gets a more sophisticated Hyperstrut front suspension layout and a multi-link independent rear setup – the standard Astra gets McPherson struts at the front and a simpler Watt's link at the rear – while some design changes are made including more intricate taillights and a revised rear end.
In the engine compartment the GTC comes with a 1.4-litre turbo with 103kW, while the Sport comes with a more pokey 1.6-litre turbo with 132kW and 240Nm (as tested). Either can be had with a six-speed manual (as tested) or a six-speed automatic. (Both engines are also available in the normal Astra five-door.)
Even though Opel is really pushing its German pedigree and origin, the Astra GTC is actually built next door, in Poland. This, along with the fact that it's built under auto giant, GM, helps to keep costs down.
Prices start at just $34,990 for the top-line GTC Sport with the manual transmission (excluding on-road costs). The auto is only available in 1.4-litre form, from $30,990.
2012 OPEL ASTRA GTC SPORT – ENGINE SOUND AND 0-100KM/H VIDEO
2012 OPEL ASTRA GTC SPORT – ACCOMMODATION AND EQUIPMENT
In coming up with the interior of all its latest vehicles, Opel says it put a strong focus on creating a user-oriented, user-friendly cabin environment, and one that is comfortable, easy to live with, and innovative enough to make motoring in general a more pleasurable experience. From our point of view, most of that has come through in the finished product.
Opel has done a great job with the 'Ergonomic' seats in particular. They're properly sporty bucket items that you snug right into. Lateral bolstering for the legs and hips is very good, while for taller drivers the front section of the front seats can be pulled out to provide additional support under the thighs (pictured below).
We say 'most' of the company's interior philosophy is true. The main element that seems a bit contradictory is the dash. There's buttons overwhelmingly sneezed all over it. You really do have to sit tight and study the dash before setting off on your journey for the first time to get used to where everything is.
We found the entire multimedia unit to be very cumbersome and not very friendly to use as well. There's a central 'mouse' or iDrive button which features arrows on it. These arrows, we found out – after frustratingly trying to configure our Bluetooth phone connection – are only functional for the satellite navigation. So you end up having to fiddle around trying to switch options on the screen using a combination of the rotary knob in the middle, and the various menu buttons around it. It's simply not a smooth experience.
In terms of comfort though and the overall environment, it's a great place to be and the ergonomics are excellent. A good driving position can also be found really easily. Front seat space is fine for a three-door hatch, and while rear seat legroom is a bit tight, like most vehicles in this segment, the seats are certainly usable for adults.
There's plenty of equipment on the top-spec GTC Sport, including sat-nav, leather trim, electric windows with auto function on both, seat warmers, and a very good seven-speaker stereo system.
On the outside the GTC Sport comes with sporty 19-inch alloy wheels, a subtle bodykit with a front spoiler and side skirts, and it's finished off with a racy rear spoiler.
2012 OPEL ASTRA GTC SPORT – DESIGN AND SAFETY
What do you think of the design? It looks quite striking for small hatch doesn't it? Despite being a German vehicle, Opel's design team is actually lead by Australian-born Niels Loeb.
On the GTC, and in fact all of the current Opel vehicles in the showroom, there's a distinct styling DNA, a philosophy which stamps every vehicle as an Opel.
One of the 'chromosomes' of the DNA are the swooping and swishing lines. These can be found on the exterior and inside the GTC. They loop the door handles and run just above the door sills, while inside the door grab handles and the dash fascia are supported by similar design lines.
It's one of those sculputures that you can sit down and appreciate, taking in the attention to detail. You'll notice little things like the intricate taillights which feature tiny coves under the bottom, and the way the bonnet smoothly flows over the roof and blends seamlessly into the hatch shape at the rear.
In terms of safety, Opel brings forward not only the usual measures such as eight airbags and traction and stability control, it also offers a number of innovative features such as Adaptive Forward Lighting.
The 'AFL' function electronically and automatically pivots the headlight beams around according to the steering wheel's angle, and at slow speeds, an additional corner bulb lights up to provide a clearer view when driving into tight spaces, such as a dark car park.
As you would expect on a modern-day European car, the Astra GTC Sport comes with the piece of mind of a five-star ANCAP safety rating as well.
2012 OPEL ASTRA GTC SPORT – ON THE ROAD
Around town the GTC feels like your usual German hatch. The steering has that solid and well-weighted feeling, and the suspension is taught without pushing the boundaries of comfort.
There is some mild understeer in slower-speed corners which is accompanied by a gentle tug at the wheel when you put you foot into it, reminding you of its front-wheel drive layout. This shouldn't be taken as a negative though, as it's only present in playful levels.
The engine's 240Nm is just on par with its main rivals. The turbo provides decent pickup from around 2500rpm, and you can leave it in fifth or even sixth while going up long hills. The engine does feel like it lacks in power though. You can rev it out to 6000rpm and it's hardly enough urge to spill your coffee, or raise any goosebumps down your spine. We timed 0-100km/h in 8.5 seconds.
The GTC has a kind of two-faced personality though. It's like the guy that's quite in normal situations, but during a night out in town, he's the one at the bar doing shots and the one on the dance floor busting out moves.
When you hit the Sport button and really grab the GTC by the scruff of the neck, it responds with complete obedience. It loves being told what to do, especially with a stern attitude. Turn in is sharp and the chassis feels wonderfully balanced.
That understeer that's sometimes present at very slow speeds is gone at higher speeds, and you can keep pushing it and pushing it and it'll guide around with confidence and composure. The only part that lets it down is the 132kW; the platform feels like it could handle a lot more power.
There's good reason it could handle more power, at the front is a complex 'Hyperstrut' suspension setup. This provides excellent road-holding around corners, even under power and while hitting nasty undulations. The compliance remains so steady and sure-footed that the stability control system is almost redundant – during our test we were hard pressed to even cause it to engage.
2012 OPEL ASTRA GTC SPORT – VERDICT
Everything is there for it to be a desirable, fun German hatch. It feels like it has excellent build quality, and it feels like it has been extensively engineered through punishing test conditions. The only aspect that upsets it for us is the power.
Luckily, Opel Australia will be introducing the OPC version (Opel Performance Cars) in February. It brings higher performance to almost every aspect of the car, including pumping up the jam with a class-leading 206kW 2.0-litre turbo engine. Now that's going to be something to look forward to…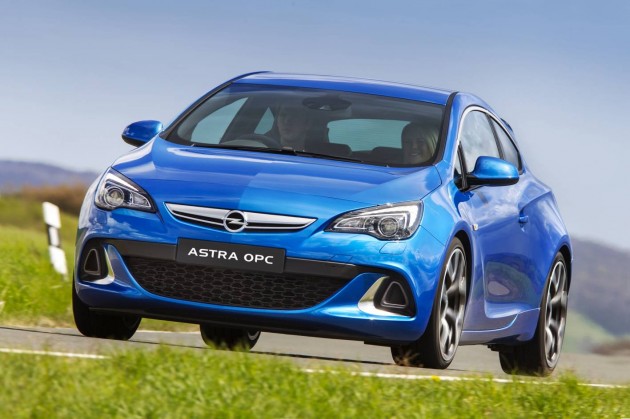 2012 OPEL ASTRA GTC SPORT – THE COMPETITORS
Hyundai Veloster SR Turbo – 1.6-litre turbocharged petrol four-cylinder, 150kW/265Nm – 1265kg – $31,990
Toyota 86/Subaru BRZ – 2.0-litre naturally aspirated boxer four-cylinder, 147kW/205Nm – 1256kg (86) – $29,990 (86)
2012 OPEL ASTRA GTC SPORT – SPECIFICATIONS
MODEL
2012 Opel Astra GTC Sport
ENGINE
1.6-litre turbocharged four-cylinder petrol with VVTi variable valve timing
ENGINE SIZE  / COMPRESSION RATIO
1598cc/Not available at time of writing

BORE X STROKE
Not available at time of writing
POWER
132kW@5500rpm, 230Nm@2200rpm
POWER TO WEIGHT RATIO
10.8: 1 (kg:kW)
KERB WEIGHT
1435kg
HEIGHT / WIDTH / LENGTH
1489mm / 2020mm / 4466mm
DRIVETRAIN
Six-speed manual, front-wheel drive
BRAKES
F: Ventilated discs
R: Ventilated discs
WHEELS / TYRES
F and R: 19- x 8.0-inch alloy, 235/45 R19
FUEL TANK CAPACITY
56 litres
FUEL CONSUMPTION
Tested average: 9.0L/100km
Official average: 7.3L/100km
PERFORMANCE
0-100km/h: 8.5 seconds
PRICED FROM
GTC Sport $34,990 (manual only)