A Ferrari 458, specifically, the Betsafe Team 113 entrant in the Gumball 3000 has come unstuck and crashed during a leg of the famous rally in Latvia. Fortunately, the occupants escaped without serious injury.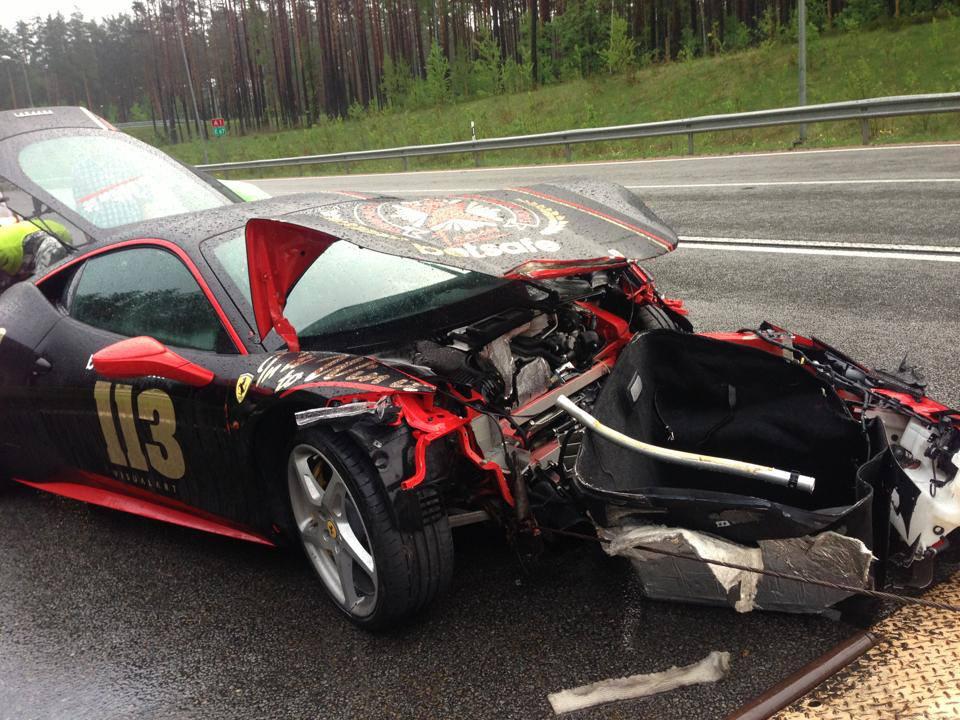 It would be extremely lucky for the Gumball 3000 rally to run through with zero accidents. It is a mecca for supercars, speed, and driving enthusiasts, attracting huge numbers from all over the world.
It's understood this incident involved lots of rain and standing water, one aqua-planning Ferrari, and more than a couple of scary moments, followed by a sudden halt. What the driver hit exactly is unknown, however, the team was apparently abiding by the speed limits at the time.
As you can see, the Ferrari 458 hasn't seen the best end of this deal. The nose is completely crunched in, with the bonnet pushed right up to meet the windscreen. You can also see the boot tub disconnected from the car.
This is reportedly the second accident so far in the 2013 Gumball 3000. Another team in a Lamborghini Murcielago LP670-4 SV lost control a crashed into a fence, stopping at a tree earlier in the week.
It's great to see supercars being utilised and driven. It's not so great to see them all smashed up. Ouch.