Images of the highly-anticipated 2016 BMW 7 Series have surfaced online, revealing the new-look design and some of the interior highlights.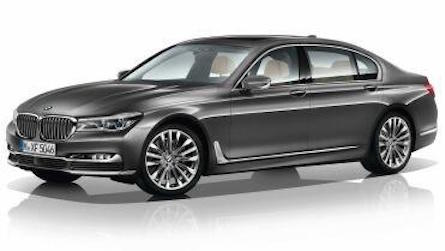 The images come from the official BMW website of Austria, where the new 7 Series online configurator was launched just days before the car's official debut on June 10.
As you can see, the 2016 7 Series takes on a similar design direction as the current 3 and 4 Series models. The headlights merge with the kidney grilles at the front, while the cheek bones are more defined and help form the muscular front wheel arches. Along the sides there's a unique underscore that runs along the sill, with two main contour creases running along the upper doors.
It's understood the new model will come in at least three variant levels, spanning from the 730d equipped with a 195kW turbo-diesel, to the 240kW 740i, up to the range-topping 750i featuring a 330kW V8.
The finer details are yet to be uncovered, however, we know the car will come with a clever touch-screen key fob and it will be capable of parking itself. There's also a rumour of a performance 'M750i' hitting the scene later down the track, but we'll have to wait for confirmation before getting too excited.
BMW will officially unveil the new model on June 10. It's then set to go on sale later in the year. Stay tuned for all the updates.