Jaguar execs have reportedly given the go-ahead on a brand-new XJ large luxury sedan. The future of the XJ was looking uncertain for a while there, with some rumours suggesting it might be transformed into a super-lux SUV.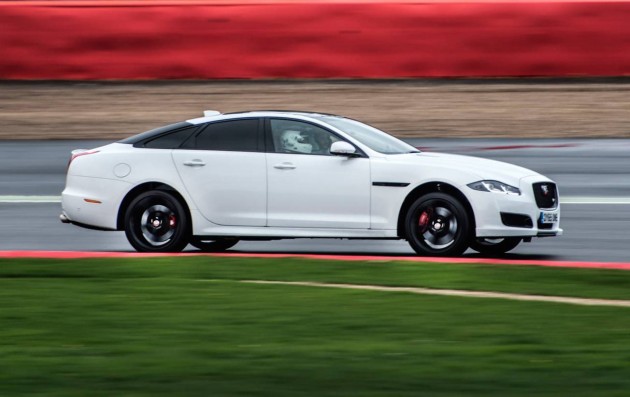 According to an Autocar report, the future of the XJ was tossed around and even made its way up to Jaguar Land Rover boss Ratan Tata, the founder of the Indian car company Tata and recent new owners of JLR.
It's understood Jaguar is looking to replace the XJ, which has been on the market now in virtually the same form since 2009, with an all-new large sedan. The need for a new model is being put down to the rise in popularity of super-lux vehicles and their technologies, like the latest Mercedes S-Class and BMW 7 Series.
It's also believed Jaguar will be looking to showcase its latest and greatest technologies to show that it can compete with the German rivals. Jaguar is a little behind in the area of autonomous driving and lightweight construction at the moment. A new XJ could package this all together while becoming a launching pad for other models in the showroom to follow later down the track.
At the moment the Jaguar XJ is only marginally larger than the latest XF sedan. The company is likely to use an extended version of the XF's D7a platform to open up more space, and potentially infuse some carbon fibre materials into the layout to reduce weight.
As for the styling, the next XJ is expected to debut the next-generation design language for Jaguar, a bit like how the current XJ first set off the design for the XF and even the recent XE to follow.
We can also expect some drastic and creative themes in the cabin, with finer quality materials, even more exquisite details and trimmings, and of course the best JLR can come up with in terms of in-car connectivity and multimedia functionality.
It is only early days yet, with the next XJ not set to hit the market until late this decade. A concept version – or two – will probably pop up between now and then.
Sales of the current XJ have been dwindling in recent times in Australia. During 2014 the company sold 48, followed by 47 during 2015. Last year's figure was easily overshadowed by the rivals, with the Mercedes S-Class reporting 326 sales and the BMW 7 Series recording 82 sales. Compared with 2011, for example, the XJ was sold to 88 buyers.