BMW Australia has announced pricing details for the new tri-turbo diesel 2012 BMW X5 M50d and 2012 BMW X6 M50d. These will be the only tri-turbo diesel BMWs to join the local lineup.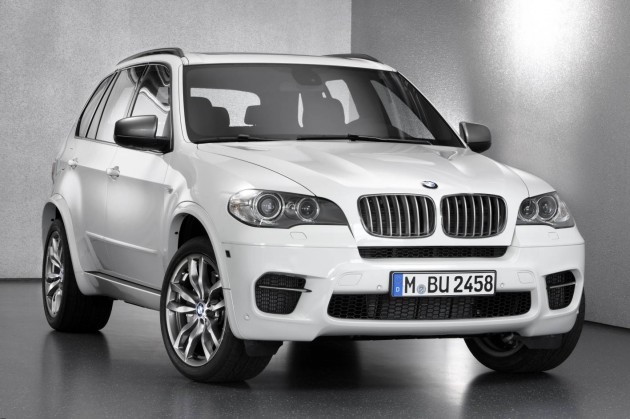 Featuring a 3.0-litre straight-six diesel engine with three turbochargers, the M50d X5 and X6 will be the only tri-turbo models to join the Aussie lineup – overseas, the engine is available in the 5 Series as wel. Power is rated at a meaty 280kW, while torque is out at a massive 740Nm.
In terms of acceleration, the X5 M50d is able to sprint from 0-100km/h in just 5.4 seconds, while the X6 M50d does it in 5.3 seconds. Despite being very quick, average fuel economy for the X5 is rated at just 7.5L/100km, and 7.7L/100km for the X6.
Since these SUVs are also part of the special BMW M Performance range, a number of performance-oriented components are also part of the package. This includes M sports suspension, brakes, as well as interior highlights such as a sports steering wheel and other M trimmings.
Also part of the package is BMW's Performance Dynamic Control system which is able to distribute engine power to individual wheels according to the conditions and driving characteristics. In circumstances where understeer is about to occur, power is sent to the outside wheels, and vice versa when there is oversteer.
(Click here for more information on the new tri-turbo lineup.)
The new models will arrive in dealerships around Australia from June. Prices for the new M50d and new X6 range is as follows (excluding on-road costs):
2012 BMW X5 xDrive M50d – $147,000
2012 BMW X6 xDrive 30d – $110,900
2012 BMW X6 xDrive 35i – $121,000
2012 BMW X6 xDrive 40d – $127,400
2012 BMW X6 xDrive 50i – $150,400
2012 BMW X6 xDrive M50d – $157,000
2012 BMW X6 M – $190,900