Bronco enthusiast forum Bronco6G has been abuzz with discussion ever since Ford said it intends to make four new SUVs by 2020. A new Bronco has been speculated as one of the likely candidates, with the next-gen Ranger as a possible baseline.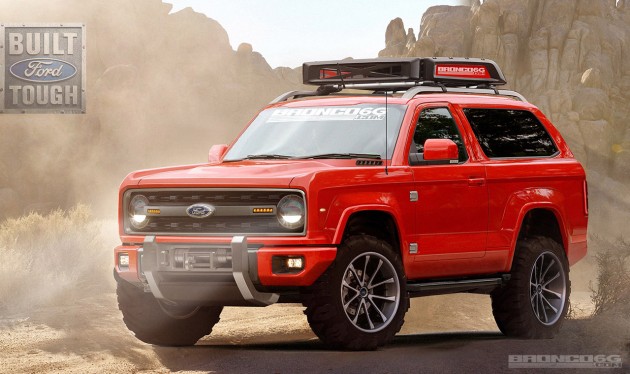 The Bronco is one of Ford's most popular nameplates, starting in 1965 with Falcon mechanicals, before evolving into a more rugged, F-series-based wagon. Some believe associations with OJ Simpson are what pushed Ford to cull it in the 1990s, but a 2004 concept got everyone's hopes up before knocking them down.
Some new renderings help reignite the personality and passion of the original Bronco, with elements of modern Ford design infused throughout. The site administrator added this statement with the accompanying rendering:
"You can see the classic round headlights and square inset front grille evolved from the 1st gen Bronco, which was also showcased in the retro-futuristic 2004 Bronco concept. Our concept features a modern body on frame next generation Bronco that retains a tall, boxy, tough, no-frills design with a strong focus on utility and off-road capabilities. We fitted separate versions with different grilles, wheel fender shapes, varying ride heights, and cargo rack for some different looks."
Quite a successful rendition with a lot of character, in our eyes. We would strongly urge Ford to put something like this into production and send it over to Australia, pronto. What do you think.