An intriguing Hyundai Veloster prototype has been spotted in South Korea, featuring what appears to be a mid-engine layout and a bespoke and very chunky two-door body.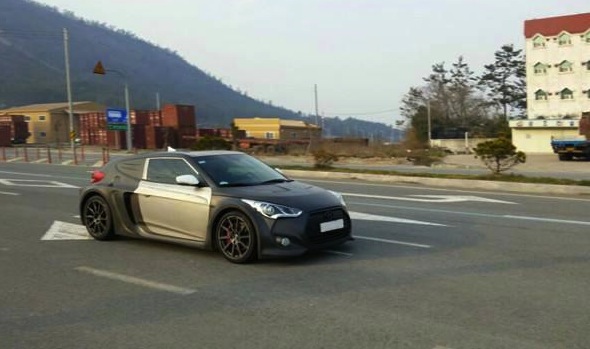 Not since the mental Renault Clio V6 have we seen a production hatch adopt such a crazy powertrain layout. Could the Veloster be next? Details are limited but it's believe Hyundai could be planning a completely unique sports hatch loosely based on the Veloster.
As you can see, thanks to these photos which were posted up on Blood Type Racing's Facebook page, the car features an obvious widebody configuration with pumped front wheel arches and heavily bolstered rear haunches. The iconic third door is also removed for a coupe-like layout.
The big intake vents just in front of the rear wheels give most of the game away. These likely feed air into the engine sitting where the back seats usually go. Hyundai has plastered up the rear side windows, further hinting the fact there might be something worth hiding in the back.
It's unknown what engine it features, however, Hyundai did actually reveal a Veloster Midship concept last year. It featured a 2.0-litre turbo four-cylinder producing 220kW. Could the company be considering a production model of that? Only time will tell.
We'll be sure to keep following this one to find out what Hyundai is planning here. Let's hope it's not just another one-off concept.