Lexus has been spotted testing an intriguing prototype on the Nurburgring. Set to be called the Lexus 'RC F', this could be the new performance model to eventually replace the IS F sedan.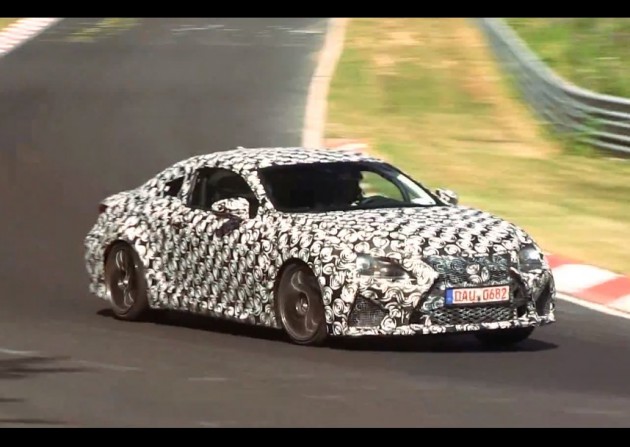 It's understood Lexus will introduce a new 'RC' nameplate in the near future, centered around a new two-door sports car based on the latest IS platform. Although the 'RC F' name is yet to be officially confirmed, it's expected to be a new performance variant.
Judging by the sounds of this prototype, the car will come with a V8 engine, potentially, a version of the current 5.0-litre naturally aspirated V8 seen in the IS F – the growling induction sound is uncanny.
You can also hear there is an automatic-based transmission involved. This suggests Lexus might hang on to its latest eight-speed sports auto which has always been used in the IS F and now in the complete IS range.
Seeing this prototype is exciting news for Lexus fans and performance enthusiasts as the future of the IS F was looking a bit grim for a moment there, with the company always stopping short of confirming a successor.
As previously reported, Mark Templin, Lexus International executive vice president, revealed a new model Lexus is on the way for 2014-2015. He said,
"I think a coupe could change perceptions of our brand and make us a more emotional brand and potentially reach younger buyers."
If this is indeed an 'RC F' coupe, ready to take on the likes of the upcoming BMW M4 (M3 coupe), it would certainly fall within Templin's description.
Click play below for a glimpse. A market arrival isn't expected to take place until at least later in 2014.