Mercedes-Benz has debuted the world's first nine-speed automatic transmission for a mainstream production passenger car, in the new E 350 BlueTEC. The new model is set to be the most fuel-efficient six-cylinder diesel in its class, partly thanks to the '9G-TRONIC' unit.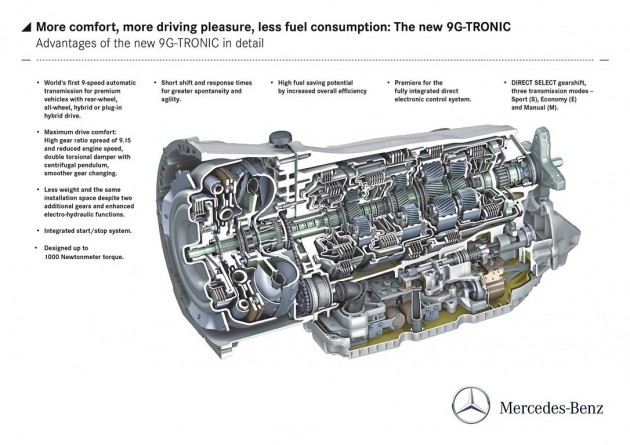 Called the 9G-TRONIC, the new transmission is standard on the E 350 sedan and estate wagon variants in Europe. Australian models are likely to follow in the very near future.
With help of the new transmission, the E 350 is now quieter than ever. Mercedes-Benz says noise has been reduced by up to 4dB due to the overall reduction in engine speed, with the nine ratios on board. The additional two gears over the outgoing 7G-TRONIC also sees torque spread even wider, with more available traction.
Of course, the other main benefit of the new torque-convertor-based gearbox is improved efficiency. The 185kW turbo-diesel V6 now comes with an official average consumption rating of just 5.3L/100km.
Part of the improved efficiency is a result of lower revs being needed for high speeds. For example, the 9G-TRONIC is capable of 120km/h in ninth at just 1350rpm.
Although Mercedes-Benz is yet to mention specific models, the 9G will be used in other Mercedes vehicles in the near future. It's capable of distributing up to 1000Nm of torque, which likely means it is suitable for all models in the company's showroom. Mercedes-Benz said,
"The 9G-TRONIC is suitable for rear-wheel and all-wheel drives as well as hybrid and plug-in hybrid drive systems and will be used in almost all model series and engines in the coming years."
Customers in Europe can order the updated E 350 now with the new transmission. An Australian introduction is expected to take place later this year.