BMW is reportedly planning to introduce a more hardcore version of the M2 Competition later this year, known as the M2 CS, and apparently there has already been a special private event to showcase the car to VIP clients.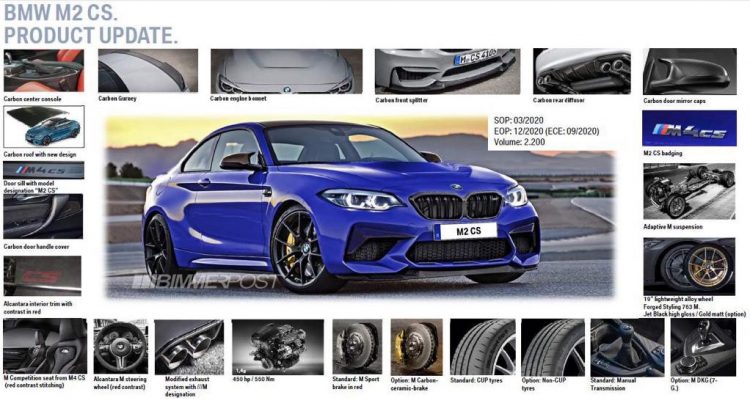 According to a recent post on Bimmerpost forums, a private exhibition was held in Belgium earlier this week. The forum user says the car will feature a 3.0-litre twin-turbo inline-six like the M2 Competition, only instead of producing 302kW it will move up to 331kW/550Nm. This is the same output as the current M3 and M4 Competition.
From there, buyers will have the option of either a six-speed manual or seven-speed dual-clutch auto, with rear-wheel drive as usual.
The M2 CS is set to come with various carbon fibre parts, like the M4 CS, such as the bonnet, roof, side mirrors, rear spoiler, front spoiler, rear diffuser, and a variety of fixtures inside. There's also set to be Alcantara for much of the interior trim.
Other highlights apparently include unique 763 M alloy wheels in gold or black, with the same tyre sizes as the M2 Competition (245/35 front, 265/35 rear). Behind the wheels are red-painted calipers, and it's understood buyers will have the option of selecting some carbon ceramic brakes for further performance.
Despite the liberal use of carbon fibre, it doesn't look like there are going to be any weight savings. According to the post, BMW representatives told VIP clients that it weighs the same as the Competition. Expect a weight of around 1550kg.
Production for the new model is set to commence in March next year and it will run for only nine months, meaning, it will be a strict special edition. There's speak of a build number of 2200 units for global markets. Buyers will be offered just four colours; Alpine white, Hockenheim silver, Misano blue, and Sapphire black.
We suspect a debut will take place very soon. A video has recently popped up on YouTube showing a prototype undergoing strenuous testing at the Nurburgring. Check it out below.