Kia has unveiled two updated hybrid and plug-in hybrid versions of its latest Optima sedan at the Chicago Auto Show in the US.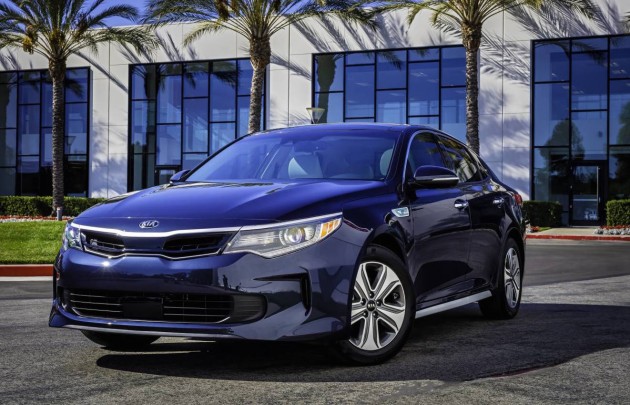 Kia brought with it an unprecedented three new hybrid model updates to the Chicago show, including the 2017 Niro Hybrid Utility Vehicle (HUV), Optima Hybrid (HEV) and plug-in hybrid electric (PHEV) variant.
The range-topping Optima PHEV is now powered by a 2.0-litre "Nu" GDI engine, good for 113kW at 6000rpm. This is mated to a 50kW electric motor, mounted to the transmission, which, according to Kia, is 42 per cent more powerful than the electric motor in the previous Optima Hybrid.
A 9.8kWh lithium-ion battery pack is used and can provide around 45km range in full EV mode, while combined range is an impressive 945km. There's also a regenerative braking system, which captures energy normally lost during braking.
The Optima PHEV can be fully charged in three hours on a 240V connection, or less than nine hours on a 120V socket.
The Optima Hybrid variant has received the same aesthetic treatment, with the fourth-generation Optima looking better than ever. Kia has chosen to downsize engines, 2.4L now down to a 2.0-litre four-cylinder unit, producing 113kW. This is mated to a six-speed transmission, and, according to Kia, should result in a 10 per cent increase in efficiency. The end result is 144kW at 6000 rpm, with a lighter, yet stronger chassis construction using advanced high-strength steel.
Kia has replaced the traditional torque converter with a 38kW electric motor and clutch, with seamless power delivery between EV mode and Hybrid mode.
The styling upgrade has also resulted in a very slippery Optima, with a 0.24 coefficient of drag, interestingly identical to the Tesla S. VP of product planning at Kia's US branch Orth Hedrick said:
"As part of our bold initiative to increase fuel efficiency by 25 percent across the entire Kia model line-up by 2020, a plug-in hybrid was a critical addition to our offering. All three of the vehicles being introduced here at the Chicago Auto Show are emblematic of Kia's commitment to sustainability and our philosophy that you shouldn't have to accept compromises when making a green choice."
An Australian introduction is yet to be confirmed, but these two will go on sale in the US later this year.