McLaren has taken to the Consumer Electronics Show (CES) in Las Vegas to unveil a new special edition model; the 675LT JVCKENWOOD.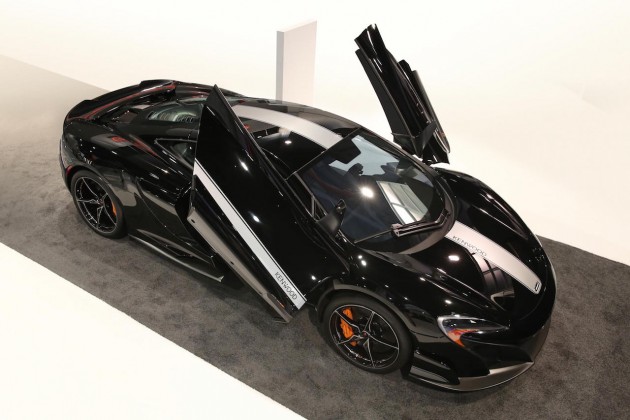 In a move that surprised many, the special edition model celebrates the 25th year of a fruitful Formula 1 partnership between the Japanese and English brands.
The 675LT JVCKENWOOD remains a stock 675LT underneath, packaged with a 22nd century amount of electrics, for those tech-savvy McLaren fans.
Inside, the driver and passenger receive racing seats, a steering wheel taken from the P1 GTR, and a dashboard wrapped in Carbon Black Nappa Leather, Geometric Black Technical Fabric, and contrasting Satellite Grey Technical Fabric.
The central console and driver's instrument cluster have been removed to give the cockpit a more spacious aesthetic, with the driver receiving information from a custom head-up display system. McLaren says the head-up display "makes conventional instruments redundant", replaced by a vent framed by satin carbon fiber to provide cooling air directly to the driver.
On the outside, few exterior changes have been made, however, there are now two camera blades replacing traditional mirrors, which McLaren says has helped to shed weight. Combined with an additional camera just below the Airbrake rear wing, McLaren's digitised rear-view system is said to provide better visibility than traditional mirrors.
The 675LT has proven a hit for McLaren, with all Coupe and Convertible LT models already sold out. See below for an outline of the technical highlights of the special edition:
1. The HUD system replaces the conventional instrument cluster, and the driver receives all necessary information from the HUD with very little eye movement necessary, especially compared to a traditional display, which requires glancing downward for vehicle information. The advantage for the driver is concentration on the road is optimal, contributing to control, safety and security. The ADAS detect the presence of vehicles, and the display interface devices communicates information collected to drivers.
2. In addition to the HUD, aerodynamic digital cameras replace the wing mirrors of the 675LT Coupé. The design of these electronic mirrors reduce weight and drag resistance, while also aiding downforce at high speed.
3. The third component of the CAROPTRONICS system in the McLaren 675LT JVCKENWOOD Concept is DRVM which replaces a conventional rear view mirror. The combination of three cameras, one on each side and one at the rear of the vehicle, offers a wider rear field of view. The DRVM is effective at reducing blind spots thanks to high resolution imagery and optimisation of the driver's control.