There are many things that you can accomplish in one year: jog your way towards a better physical condition, complete graduate education, prepare a mind-blowing wedding proposal… And just recently, a 44-year-old business owner from the British town of Stroud has added another remarkable entry to that non-exhaustive list. She has proved that it can take 365 days – give or take a few – to (drumroll) nullify a £50 (AU$96) fine for parking in the Smart way.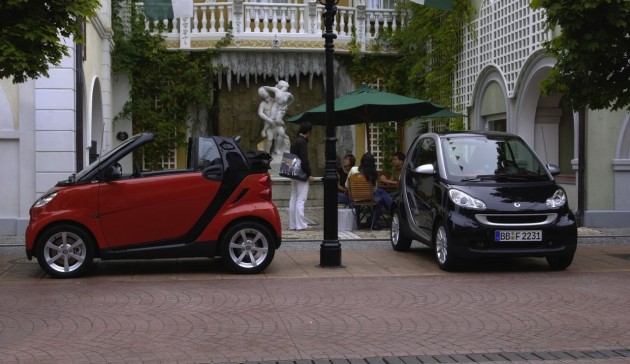 Vanessa Price's parking parable started when she was shopping Halloween goodies in her hometown. Her noble steed, a snowy white Smart ForTwo (like the dark one pictured), was deftly squeezed in between two other vehicles. Following the German manufacturer's recommendations, Price had positioned the car Smartly, ninety degrees to the kerb.
This manoeuvre marvel had not escaped the attention of a nearby traffic warden, who immediately argued that the Lilliputian automobile violated the law and was thus worthy of a £50 fine. After all, its front wheels crossed the white bay markings and therefore blocked the road, potentially endangering other traffic participants' safety. But Price, who had performed her parking practice in various cities before without any trouble, contested this and started an intense discussion, which soon swelled to a bureaucratic battle.
Flash forward to The Present, where a parking penalty tribunal adjudicator has just let the case swing in Price's favour. A technicality did the trick. As it turns out, she did not breach the rules since she was parked in a waiting space instead of a parking lot. Price can keep her £50 but has already admitted that this Smart suit has dug far deeper holes in her bank account.
Meanwhile, a Smart representative has contributed the following words of wisdom to the debate: "A smart car can be parked in any way that is legal, safe and responsible. As countries and cities have different rules, there's not a single global response."
Still, dearest Smart owners, please keep in mind where you cross the line.