Electric sportscar maker Tesla has revealed the new Tesla Model X at its headquarters in California. The dramatic and futuristic crossover features gullwing rear doors, seven seats, and a fully electric all-wheel drive powertrain.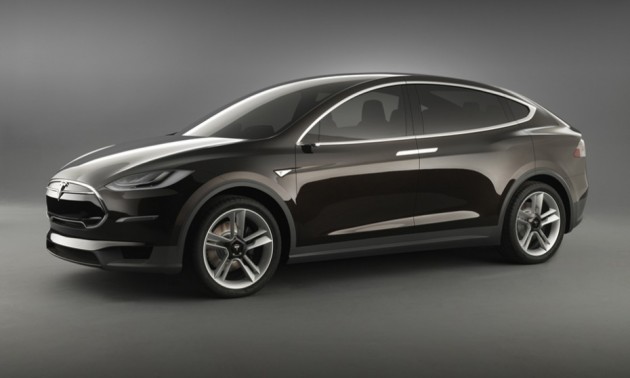 The Tesla Model X is based on the company's Model S luxury sports sedan. It's powered by two electric motors which receive current from three optional battery packs. There's an entry-level 40kWh, a 60kWh, or a long-range 85kWh, all of which provide energy to all four wheels.
Tesla says the big crossover is able to hustle from 0-60mph (0-97km/h) in just 4.4 seconds, making it as quick as a Porsche 911, all the while consuming no petrol. Full charge range expectancy spans from 370km to around 480km for the 85kWh battery.
An innovative feature to the Model X, apart from the entire vehicle itself, is the battery pack placement; it's all mounted along the floor pan, leaving plenty of room inside the cabin – and inside the boots. Yes, it has two of them as there's no engine in the front.
Other interesting features include a sophisticated all-wheel drive system which is able to calculate the best power distribution to each wheel according to traction, as well as a whopping 17-inch touch screen user interface for all multimedia functions, and internet connectivity.
Tesla is said to be taking orders as of later today (US time), however, deliveries won't take place until 2014. It is expected to be priced marginally above the Model S, which starts at US$67,400