Lexus has revealed the all-new 2018 LS 500h at the Geneva motor show, sporting a brand-new hybrid powertrain incorporating two electric motors.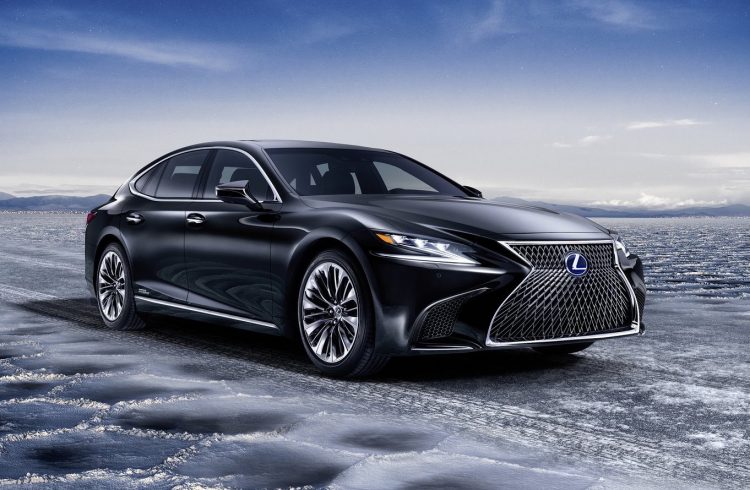 It follows the debut of the new LS 500 earlier this year, which introduced Lexus's first twin-turbo V6 petrol. For the LS 500h though, there's a 3.5-litre naturally aspirated V6 petrol paired with two electric motors. This is sent through a CVT transmission.
Unlike the LC 500 twin-turbo, this hybrid model comes with a CVT that simulates the feel of a 10-speed auto. Meanwhile, the turbo version uses an actual 10-speed automatic. We're assuming the CVT is adopted here to better suit the nature of the hybrid propulsion system as well as providing a more relaxed and comfortable drive.
Lexus says the transmission features something it calls "Driver's Mind Index", which is essentially a mind-reader-like approach to gear change patterns. The car is able to adjust gear shits to suit the driver's style and behaviour, Lexus says, without the need to select a different driving mode.
Combined, the hybrid setup produces 264kW, giving a respectable 0-100km/h time of 5.4 seconds. As a bonus, the driver can drive on electric power alone with the petrol engine switched off at speeds of up to 140km/h. There's been no mention of range in this mode.
The electric side of things consists of a new, lighter weight and more compact lithium-ion battery pack which is 20 per cent smaller than the nickel-metal unit found in the outgoing LS 600h V8 hybrid. This has opened up 25 litres of additional cargo capacity.
It all rides on the new Lexus Global Architecture (GA-L), shared with the LC coupe. And in 500h form it is only available in long wheelbase spec. The wheelbase measures 3125mm, which is 35mm longer than the outgoing long wheelbase LS 600h L. It also sits about 15mm lower, and the bonnet and boot are 30mm and 40mm lower, respectively.
Inside are a set of new seats, with 28-way power adjustment for the front with heating, cooling and massage functions, while the rear seat is optionally available with a legroom-extending ottoman that provides the most legroom of any LS model.
Front passengers use a 12.3-inch navigation display for most on-board controls and media options, and the driver gets a separate 24-inch colour head-up display. This is the largest driver head-up display in the world, according to Lexus, displaying a range of vehicle information and performance data.
Other highlights include a high-end Mark Levison "Quantum Logic Immersion" 3D surround sound system bringing a concert-like sound experience, while the cabin is decorated in new origami-inspired hand-pleated door trims and hand-crafted highlights by Kiriko artisan glassworkers.
The new LS is set to go on sale later this year, with an Australian introduction penned for early 2018. Prices are yet to be finalised.