Following in the footsteps of the CX-8 LE, Mazda Australia is launching an exclusive version of its smallest SUV. Introducing the CX-3 Akari LE.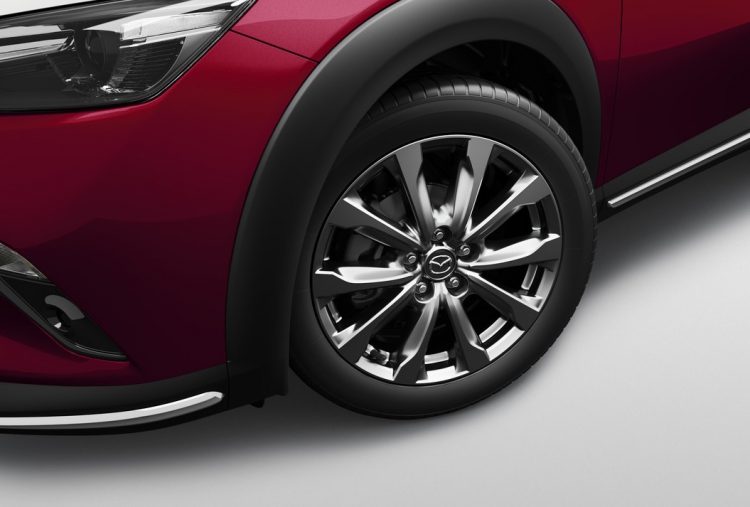 Based on the already top-spec Akari, the LE adds a number of distinct trimmings that promise to boost overall luxury. The interior is distinguished with a Dark Russet trim and contrasting Pure White accents, giving the ambience a new level of exclusivity.
Dark Russet Nappa leather is used for the seats, while parts of the centre console are covered in the same colour but using synthetic leather. These trimmings are then contrasted with white stitching, matching the white accents on the dash, door cards and a stripe on the seats.
Not much is changed for the exterior. There's a set of 18-inch alloy wheels coated in bright shadow chrome, and that's about it. It does share the same bodykit, grille and headlights and so on with the Akari, though. All of this builds on the recently-introduced 2018-2019 model which was introduced in August.
Rolling in with the 2018-2019 model update was a range of advanced safety features, including the full suite of i-ActiveSense technologies, such as smart city brake support (autonomous emergency braking) in forward and reverse, blind-spot monitoring, rear cross-traffic alert, and a 360-degree parking camera system.
Going for the Akari LE, it comes exclusively with the 2.0-litre petrol four-cylinder engine matched to a six-speed automatic. Buyers can option for either front-wheel drive or all-wheel drive. In either case, the engine produces 110kW and 195Nm.
The new variant is on sale now and is available in five colours; Ceramic Metallic, Jet Black Mica, Machine Grey Metallic, Snowflake White Pearl Mica, and Soul Red Crystal Metallic. It looks like Mazda has reduced prices for the range since the August update. Prices start from the following (excluding on-road costs):
Petrol
2018 Mazda CX-3 Neo Sport 2.0L petrol FWD manual – $21,790
2018 Mazda CX-3 Neo Sport 2.0L petrol FWD auto – $23,790
2018 Mazda CX-3 Maxx Sport 2.0L petrol FWD manual – $23,690
2018 Mazda CX-3 Maxx Sport 2.0L petrol FWD auto – $25,690
2018 Mazda CX-3 Maxx Sport 2.0L petrol AWD auto – $27,690
2018 Mazda CX-3 sTouring 2.0L petrol FWD manual – $27,790
2018 Mazda CX-3 sTouring 2.0L petrol FWD auto – $29,790
2018 Mazda CX-3 sTouring 2.0L petrol AWD auto – $31,790
2018 Mazda CX-3 Akari 2.0L petrol FWD manual – $32,790
2018 Mazda CX-3 Akari 2.0L petrol FWD auto – $34,790
2018 Mazda CX-3 Akari 2.0L petrol AWD auto – $36,790
2018 Mazda CX-3 Akari LE 2.0L petrol FWD auto – $35,290
2018 Mazda CX-3 Akari LE 2.0L petrol AWD auto – $37,290
Diesel
2018 Mazda CX-3 Maxx Sport 1.8L diesel FWD auto – $28,090
2018 Mazda CX-3 sTouring 1.8L diesel AWD auto – $34,190
2018 Mazda CX-3 Akari 1.8L diesel AWD auto – $39,190