The cute little Mazda CX-3 has come in for a mild facelift for 2018, with added safety and revised styling headlining the update. Fans of the diesel engine will welcome a decent increase in power, too.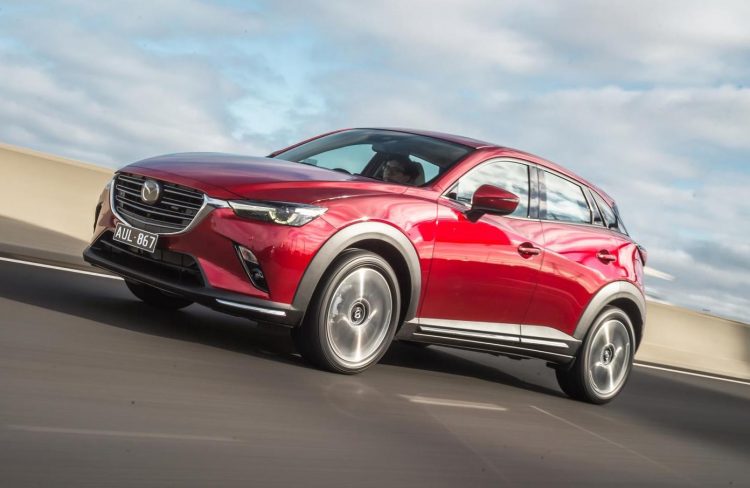 Mazda Australia has launched the 2018 CX-3 update in four main grades, spanning from the Neo Sport, Maxx Sport, sTouring, to the top Akari. All models now come standard with a rear-view camera and electronic parking brake, and all come with Mazda's latest SkyActiv Vehicle Dynamics.
In terms of safety kit, the standard i-ActiveSense suite packages in Smart City Brake Support (autonomous emergency braking) in forward and reverse, and Emergency Brake Assist. For the flagship Akari model a new 360-degree parking camera system has been added, along with radar cruise control with stop and go.
As you may have spotted, the exterior has been given a mild facelift, with a more premium-looking front grille filled with horizontal slats. All models above and including the Maxx Sport receive gloss black trimmings, and some revised taillights are given to the sTouring and Akari.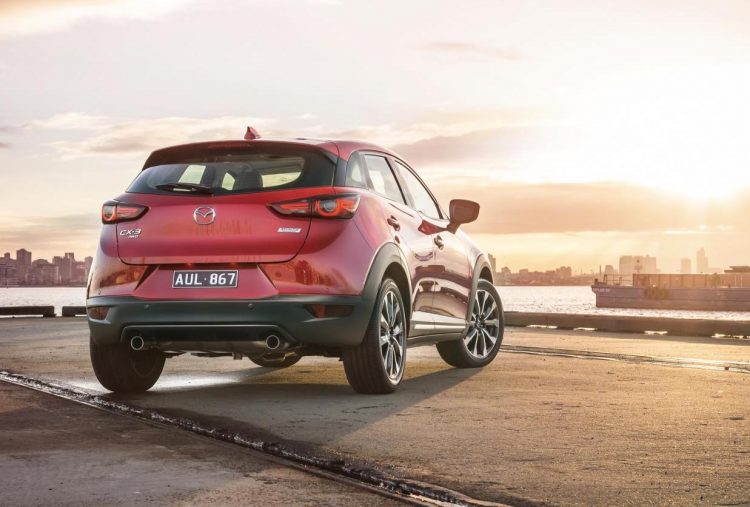 The main hardware under the bonnet hasn't changed much for the petrol unit from the outgoing model. It remains as a 2.0-litre four-cylinder. However, some minor updates to the SkyActiv tech result in an increase of power from 110kW to 111kW, while torque is lifted from 192Nm to 195Nm.
New for the diesel buyers is a 1.8-litre turbo-diesel, replacing the 1.5L unit. This new engine comes with the latest SkyActiv components, including piezo injectors, egg-profile combustion chambers, and a "Natural Sound Smoother". When pushed, the unit produces 85kW (up from 77kW) and 270Nm (unchanged).
Both engines are matched to a six-speed manual or automatic, and buyers can option for either front-wheel drive or all-wheel drive, depending on the variant grade. The new model is on sale now from the following prices (excluding on-roads):
Petrol
2018 Mazda CX-3 Neo Sport 2.0L petrol FWD manual – $23,990
2018 Mazda CX-3 Neo Sport 2.0L petrol FWD auto – $25,990
2018 Mazda CX-3 Maxx Sport 2.0L petrol FWD manual – $25,490
2018 Mazda CX-3 Maxx Sport 2.0L petrol FWD auto – $27,490
2018 Mazda CX-3 Maxx Sport 2.0L petrol AWD auto – $29,490
2018 Mazda CX-3 sTouring 2.0L petrol FWD manual – $28,740
2018 Mazda CX-3 sTouring 2.0L petrol FWD auto – $30,740
2018 Mazda CX-3 sTouring 2.0L petrol AWD auto – $32,740
2018 Mazda CX-3 Akari 2.0L petrol FWD manual – $33,990
2018 Mazda CX-3 Akari 2.0L petrol FWD auto – $35,990
2018 Mazda CX-3 Akari 2.0L petrol AWD auto – $37,490
Diesel
2018 Mazda CX-3 Maxx Sport 1.8L diesel FWD auto – $29,990
2018 Mazda CX-3 sTouring 1.8L diesel AWD auto – $35,240
2018 Mazda CX-3 Akari 1.8L diesel AWD auto – $40,490