The new Maserati Ghibli has arrived for the Australian market. The Italian marque is offering three variants Down Under, all of which are targeted at the large premium sedan segment.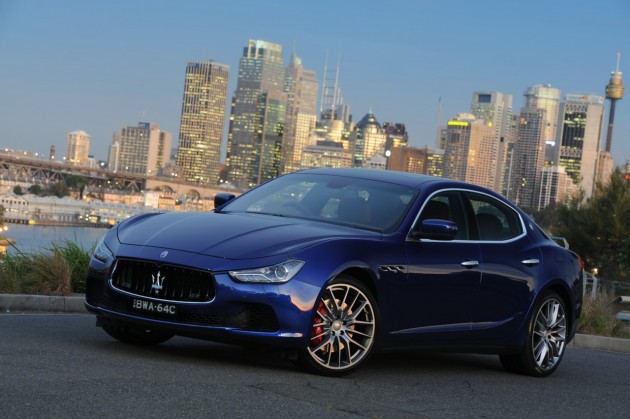 Maserati is going to have a tough time fending off rivals such as the Audi A6, BMW 5 Series, and Mercedes-Benz E-Class, however, Maserati brand sales are growing rapidly, m like those from brother brands Ferrari and Alfa Romeo.
Maserati posted record sales in 2013, selling 13,000 units around the world. As for 2014, the company is on track to sell around 42,000 vehicles.
Three Ghibli variants make up the local lineup, including the Diesel, the regular Ghibli, and the Ghibli S. All feature a turbocharged 3.0-litre V6 engine layout.
Starting with the diesel, the V6 produces 202kW of power and an impressive 600Nm of torque. It's potent enough to provide 0-100km/h acceleration in just 6.3 seconds, yet it offers an average fuel economy rating of 5.9L/100km.
Next up, the first of the petrol twins. The twin-turbo V6 serves up 243kW of power and 500Nm of torque, capable of seeing 0-100km/h in just 5.6 seconds. Despite the swift performance off the mark, the Ghibli uses an average of 9.6L/100km.
Lastly, the range-topping Ghibli S. It uses the same engine as the mid-spec variant above, only it is boosted to develop 301kW of power and 550Nm of torque. With these sorts of figures, it's no surprise 0-100km/h comes up in 5.0 seconds dead. It offers an average economy rate of 10.4L/100km.
All models come with stylish 18-inch alloy wheels, a ZF eight-speed automatic transmission with sport modes and paddle shifters, and rear-wheel drive. All variants also come with a mechanical limited-slip differential as standard.
The two entry-level models get four-piston brakes with 345mm front discs, while the Ghibli S comes with more serious Brembo six-piston stoppers.
Inside, passengers are presented with a lush decor covered in special Poltrona Frau leather. There's also a comprehensive multimedia Maserati Touch Control interface with an 8.4-inch touch-screen. It supports most on-board systems such as the media output, DVD, Bluetooth, and controls for the heated and ventilated seats.
The key highlight and attraction to the Ghibli is in the pricing. It becomes the most accessible Maserati on sale. Glen Sealey, general manager of Maserati Australia and New Zealand, said,
"The Ghibli is smaller, shorter, lighter, more dynamic, less expensive and more economical than the flagship Quattroporte and, by providing Maserati with two four door saloons in its range for the first time, it takes Maserati into a new market sector with significantly more sales potential.

"The new Maserati Ghibli, with an entry price point of $138,900, excluding statutory charges, dealer and delivery costs, is more than $100,000 below the previous Maserati entry point and, indeed, there is no overlap in pricing between Ghibli and Quattroporte, with range-topping Ghibli S priced at $169,900 excluding statutory charges, dealer and delivery costs."
Prices for the new range are as follows (excluding on-road costs):
Maserati Ghibli Diesel – $138,900
Maserati Ghibli – $139,990
Maserati Ghibli S – $169,900