The next-gen Porsche 911, codenamed the 992, is getting near. Very near, actually, with the company already handing out some teaser images of the new model showing a near-production prototype.
As you can see, the 992 911 isn't going to showcase a revolutionary design, but more evolutionary, sticking with the traditional coupe layout. It actually looks very similar to the current 991 version, at least in prototype form. You've got the typical round-eye headlights, although they appear to be mounted slightly further back, as well as the sloping rear windscreen that leads straight to the rear bumper bar.
Porsche is concentrating on a few main areas with the new model, including amping up the technology, ensuring a great soundtrack, and of course further extending the 911's outstanding driving dynamics. Safety will also be taken to the next level, although it is committing to ensure driving remains in the foreground. Speaking about the 992, 911 model line director August Achleitner said:
"Even when it comes to the individual assistance systems, they have to fit with the 911. Those are convenient and useful things. But the customer has to make the choice to use them and, above all, be able to switch them off when they're not desired."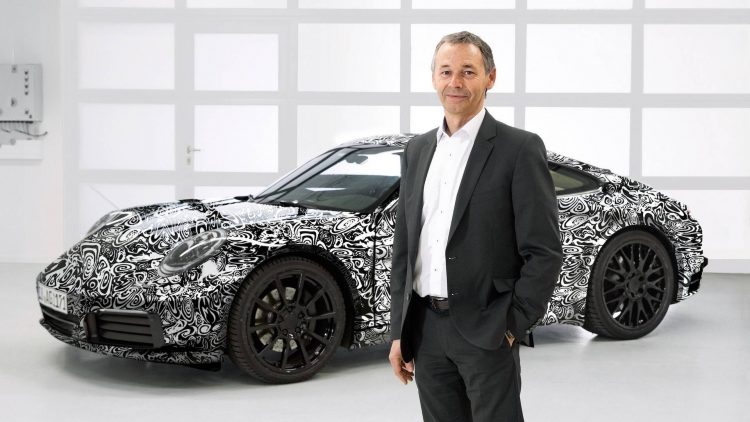 On that note, Porsche isn't going to be offering autonomous cruise control or auto pilot any time soon. Achleitner says the 911 will always have a steering wheel, and even if autonomous vehicles make big progress in the industry, he says the "911 will be one of the last cars to drive autonomously".
What is interesting on the technology front is the possibility of an electric model, or at least electric-assisted hybrid option. Porsche straight out says the 992 is not an electric sports car, but says it "could be an option somewhere down the line". Achleitner said:
"Two years ago I'd have said no way. Today I wouldn't categorically rule it out. I drove the prototype of our coming electric sports car, the Mission E, and it was a very compelling experience. And the performance of the Porsche LMP race cars with hybrid drive systems is quite simply sensational."
If an electric version is introduced it would become the first electric 911 ever, or first hybrid version ever. Porsche is no stranger to hybrid technology, recently offering the 918 Spyder. Either way, Porsche says, like all generations, the new model "will be the best 911 of all time". A full debut is expected later in the year.