The mammoth BMW X7 doesn't really need enhancement to increase its presence on the road. However, that hasn't stopped renowned tuner Lumma Design from coming up with some custom options.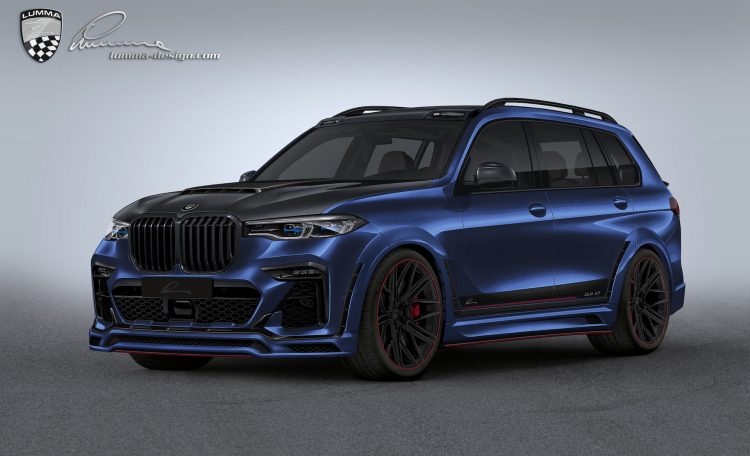 Starting with the visuals, Lumma Design has crafted a completely new front bumper bar with loads of intakes and vents in it, and a much lower chin spoiler along the bottom. All grilles and highlights are presented in the fashionable black or carbon fibre.
A custom carbon fibre bonnet gets its own WRX-style vent in the middle, and then along the sides are some matching skirts to go with the front spoiler. Both the front and rear wheel arches are extended (by 50mm) for a wider stance, complete with slits in the front and back. These encompass 23-inch wheels by Lumma Design.
Around at the back Lumma Design has again created a bespoke bumper bar. The lower half of it in particular looks like it comes straight from a racing car, with quad-outlet exhausts wrapped in a darkened trim piece. The garnish that connects the taillights, as well as the rear spoiler, and the lower tailgate, are also featured in black or carbon fibre.
It's not all show and no go, either. Lumma Design can do a full performance exhaust system for you, with four 100mm stainless steel pipes poking out from the rear. Along with some ECU tuning, the X7 M50i's 4.4-litre twin-turbo V8 can be enhanced to produce 500kW, up from the standard 390kW.
Lumma Design does offer a range of enhancements for the interior as well. But then again, BMW Individual offers a range of exclusive upgrades and personal touches. Unfortunately, Lumma Design hasn't handed out any images to demonstrate the possibilities here.
Check out our X7 M50d and X7 30d reviews for more detail on the huge seven-seat SUV (includes 0-100 videos).