Two terms not usually found in the same sentence are people-movers and luxury driving pleasure. With the huge demand for SUVs today, BMW has merged these concepts together and added to its six-strong SUV lineup with the all-new X7. Being the biggest in the fleet, the X7 offers unrelenting levels of luxury and space.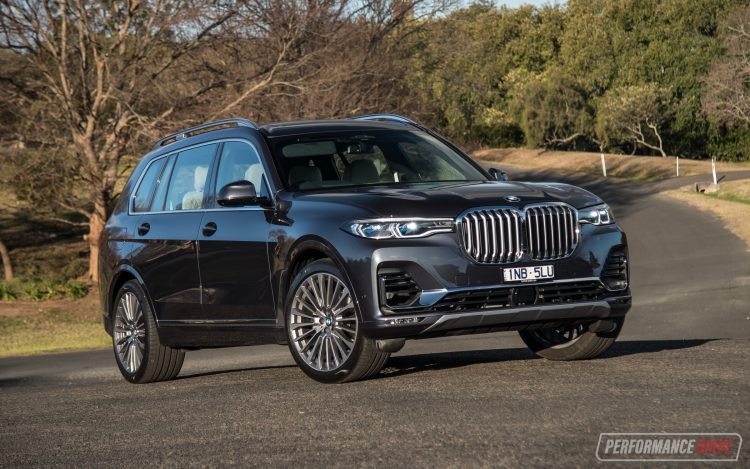 The X7 is built in the USA, which leaves only the X1 and X2 from the SUV line that continue production in BMW's home country, Germany.
In Australia, we can choose from the xDrive30d, fitted with a 195kW/620Nm 3.0-litre turbo-diesel straight-six engine, or a muscly M50d (review here) that extracts a staggering 294kW and 760Nm from a quad-turbo version of the same engine. Both variants come with a mellifluous ZF-based eight-speed automatic, constant all-wheel drive, and sumptuous seating for seven fully-grown humans (yes, the third row is just as luxurious as the rest).
Today we're testing the xDrive30d, which is priced from $124,900 (plus on-road costs). We notice the price has jumped slightly from the initial launch price of $119,900. Even still, going up against the likes of the Lexus LX, Mercedes-Benz GLS, and full-size Range Rover, the price is quite reasonable (for this end of the market). The X7 M50d starts from $169,900.
UPDATE: Soon after putting this review together BMW Australia announced a 390kW/750Nm M50i twin-turbo V8 petrol alternative for the X7. It's priced from $171,900, with local deliveries scheduled to commence later this year.
2019 BMW X7 xDrive30d – THE SPECS
Engine: 3.0-litre turbo-diesel inline six
Output: 195kW@4000rpm / 620Nm@2000-2500rpm
Transmission: Eight-speed auto
Drive type: All-wheel drive
Wheels: F & R: 20×8.5, 275/50 (22in as tested)
ANCAP: Not tested
Tare weight: 2312kg
Power-to-weight: 11.85:1 (kg:kW)
Official fuel economy: 7.3L/100km
Economy during test: 8.1L/100km
Fuel capacity/Type: 80L/Diesel
Power efficiency: 26.71kW:L/100km
0-60km/h: 2.99 seconds*
0-100km/h: 6.90 seconds*
60-110km/h: 5.03 seconds*
1/8 mile: 9.66 seconds at 119.7km/h*
1/4 mile: 15.03 seconds at 147.4km/h*
Max acceleration: 0.864g
100-0km/h braking: 3.01 seconds at 35.46 metres*
Max deceleration: -1.333g
Decibel at idle: 48*
Peak decibel at 60-100km/h: 75*
Priced from: $124,900
* Figures as tested by PerformanceDrive on the day. Factory claims may be different

2019 BMW X7 xDrive30d – THE PACKAGE
Depending on how you look at it, the X7 xDrive30d is a bargain when you consider it is only around $10k more than the X5 xDrive30d. And it's a huge vehicle you're getting. In fact, it is 161mm longer and 20mm wider than the Toyota LandCruiser. But that sheer size does not compromise on the signature BMW styling one bit.
The exterior design is unmistakably BMW. It approaches the air with the famous large dual grille, now merged in the middle, supported by fierce headlights that use adaptive LED technology as standard (BMW Laser option fitted here). Subtle contours flow straight to the rear, where the LED taillights are flat and linear. There are many horizontal edges and chrome touches that make the X7 look very elegant, royal and strong. The overall shape is boxier than the X5, with a roofline that stays tall to the very rear end.
If you want to know what it feels like to have the presidential experience, take a seat in one of these beasts. To start with, there are 14 different colours of leather to choose from. This Merino Ivory White and Midnight Blue upholstery featured here is part of the BMW Individual options, and is extremely soft and finished with pillows for the headrests. The rest of the interior gives off an airy ambiance, especially at night, where subtle lighting is used to glow key areas like a high-end movie theatre.
Likewise, bright puddle lights beam down to the ground on the outside to provide a sense of occasion with every entrance/departure. Of course, the interior lighting is fully customisable with a range of colours and brightness levels to choose from. Design engineers have adapted the luxury of the 7 Series sedan to produce a high-quality and unmistakably premium interior.
In the front row, it's roomy and as comfortable as a lounge chair from a posh chalet in the German alps. There are so many adjustments available that the main screen helps you identify what each button does as you hover your finger over the controls. This is a really nice touch we think. The second and third rows are just as roomy and well-appointed, with leather extending far down the doors and rear panelling. The rear doors are mammoth size, too, which means it is easy to step in.
We love the special consideration given to the ability to electrically adjust the rear seats from the front row, and from the boot area at the rear. It goes a long way in helping to navigate through such a big SUV without the need to run about the perimeter – it's a long walk. Although, the electronic motors in the seats are quite slow.
Usually, third row seating is best fit for kids. But not here. Sitting in the third row feels as comfortable and roomy as the rest. Appointments aren't stingy either, with cup holders and even power sockets available. The amount of room still left over in the boot is bigger than a Mazda3 hatch boot. There's 326L with all rows in use, 750L in the five-seat configuration, and up to 2120L with the rear rows folded down.
You get an absolute plethora of features and luxuries as standard. But there are some sneaky add-ons that you're expected to pay extra for. For example, five-zone climate control with settings for the third-row (on the ceiling, as featured here), heated seating, Harmon/Kardon premium sound, heated and cooled cup holders, and tyre pressure indicators are an optional extra.
But you do get a 10-speaker sound system with Apple CarPlay (no Android Auto) and digital radio, a total of seven USB or USB-C ports, front, rear and side cameras, adaptive cruise control, forward and rear and pedestrian collision mitigation, a full 12.3-inch digital instrument cluster, selectable driving modes, head-up display, road sign recognition, and adjustable air suspension (80mm range), to name some.
The X7 is fitted with BMW's latest Operating System 7.0, which comes with 'Live Cockpit Professional'. That means you can use gesture control by moving your hand in the air to change volume or radio channel, or use the iDrive touch controller on the centre console to navigate through the menus on the crisp touch-screen display. There's also voice control to operate settings. And of course, it is all very customisable.
On a side note, the optional Harmon/Kardon premium sound system is among the best we've heard. That clean bass and crisp treble is definitely worth considering if you're a sound junkie. Another option worth considering is the 22-inch multi-spoke alloy wheels as featured here, using 275/40 tyres. They are a no-cost option, and, we think, they give the X7 a really classy character. However if you are planning regular off-road adventures it might be best to stick with the standard 20in items, which use slightly taller 275/50 tyres.
BMW offers a three-year, unlimited kilometre warranty. The unlimited kilometres are fantastic, but, like most premium car brands, three years is falling behind the new five-year standard applied by almost all non-premium brands these days.

2019 BMW X7 xDrive30d – THE DRIVE
Carting a 2312kg SUV is a big task. But the 3.0-litre inline six performs confidently and gets the job done. With 195kW and a huge 620Nm on tap, getting the X7 rolling is almost effortless. Even up hills, there's no diminishing momentum. This engine never feels short of breath, either. But, there's always room for more power, right? If you so desire, head over to the M50d or M50i. Keep in mind though these are M Performance models and come with sportier suspension and wheels, which could detract from the overall relaxing and luxurious experience.
What immensely helps to get the X7 moving is the flawless eight-speed auto transmission, which seems perfectly calibrated to this engine. It would have to be the smoothest and most composed auto we have felt. It manages to line up the right gear without delay as you lead into a right-angle corner, and it is so smooth that you often don't even feel the gears change. Usually, smoothness means delay and decreased acceleration. Not here. We were able to reach 0-100km/h in 6.90 seconds. Officially, BMW claims it is reached in 7.0 seconds.
If you're specifically in the market for an SUV with a decent towing capacity, the X7 won't disappoint. BMW recently uprated the braked towing capacity for most of the X5 and X7 range to the Australian legal limit of 3500kg (excludes the hybrid and four-cylinder options). The company is also offering a factory towing package for $2500.
Taking a light off-road detour is not a problem in the X7 with that adjustable and auto-levelling adaptive suspension. There is an off-road mode you can select, which adjusts the suspension, steering and power distribution to suit rough and loose surfaces. However, you wouldn't want to take the X7 to the off-road depths of a Lexus LX or Range Rover with these low-profile tyres. Shallow tyre walls mean off-road capabilities are reduced. And with a approach angle of 25 degrees, departure angle of 22.2 degrees, and a wading depth of 500mm, the figures mean the X7 is best at being a luxurious SUV on the bitumen and the odd dirt road.
It's no surprise that we find the suspension and entire driving dynamics to be top-of-the-class. The big Range Rover comes close, but the Lexus LX is less stable when threading a squiggly road. The adaptive air suspension means you can dial in a firmer setting with Sport mode, which noticeably reduces body lean and improves steering response. And even though the X7 is a big SUV, it doesn't feel as big as it is when cornering.
In Comfort mode, yes, it can feel a tad 'boaty', even wafting down the highway as you keep it in the lanes. Thanks to the Individual mode you can create a driving profile to suit your desires. For example, you can have the powertrain and steering in the relaxed and lightest setting, yet wind in the suspension for less of that 'boatiness' (we're saying boaty because we tend to like a tauter feel here at PerformanceDrive. The target market for the X7 will no doubt love the soft and comforting setting).
The wide tyres help the X7 feel confidently planted, and it displays minimal body roll during sweeping bends. Toss it from left to right, there still isn't detrimental body roll but the reaction of the body is a little delayed compared with the X5, for instance. But this is all to be expected considering this isn't an M Performance variant and it is designed to be like a high-riding 7 Series. In the city, you'll hardly notice annoying pot holes or even speed bumps, as the suspension compresses and extends with minimal fuss and in utter silence.
Unfortunately, there seems to be a lack of refinement with the braking system. We found it almost impossible to stop the X7 smoothly without a jolt or back-and-forth rocking sensation. It just doesn't live up to the rest of the car's refinement. Your job would be very difficult if you were a high-end chauffeur in this vehicle because of this. Interestingly, this is a similar sensation we noticed in the X3 and X4 we've tested.
Being a six-cylinder and a heavy SUV you might assume you would pay the price at the fuel bowser. Surprisingly, our fuel consumption figures averaged 8.1L/100km during this test, which included mixed highway and city driving for a period of one week. We think this is quite impressive considering its size and weight, and keeping in mind it does offer respectable performance. Official figures are 7.3L/100km for the combined cycle.

2019 BMW X7 xDrive30d – THE VIDEO
2019 BMW X7 xDrive30d – THE VERDICT
The all-new BMW X7 is a proud and luxurious 7-seat SUV. We love the very high levels of prestige and detail that instantly put you in 7 Series class, except with the X7 there's the added benefit of an even bigger cabin. If cabin space and opulence are the most important aspects for you, we strongly recommend you place the X7 at the top of your shortlist. If sheer off-road ability is, the X7 will fall towards the lower half. If you love technology and gadgets and don't mind the lack of Android Auto, the X7 is also up there.
As for whether to go for the xDrive30d or stretch to the M Performance variants, we think you'll appreciate the sparing fuel usage in the 30d. The performance is also more than good enough, and without the edgier components of the M50d and M50i, the more reserved 30d does seem to offer superior elegance and comfort. But if you have an extreme need for oomph or have a need to stand out and look hot, go for the M50d or M50i.
PROS:
– Top-shelf 7 Series luxury; beautiful seating, lighting and tech
– Smooth and well-calibrated auto
– 30d offers good fuel economy, decent performance
– Standard air suspension
– Only around $10k more than the X5 xDrive30d
CONS:
– Unrefined braking; nearly impossible to stop smoothly without rocking sensation
– Android Auto omitted
– Very heavy
As always, if you're thinking about buying a new car don't forget to click here to speak with our car buying specialists.