Born in the USA. Fittingly, perhaps. The BMW X7 is a brand new super-sized SUV for the top end of the market. Up until now BMW has been curbing upper-large luxury SUV consumers from its showroom, leaving them to stroll over to Mercedes-Benz and Lexus to muse over the GLS and LX, respectively. With the X7 hitting the scene, buyers of the big Range Rover now have an alternative, too.
The X7 is BMW's largest SUV, built at its Spartanburg plant in the USA. That '7' in the name refers to its class. Yep, it's basically a 7 Series on stilts, and you pack seven passengers inside. All passengers receive the same attention to ensure they are as comfortable and relaxed as technical possible.
To help with that BMW has made sure the X7 is big. Really big. In fact, it measures well over five metres in length (5151mm). It's also two metres wide (2000mm), and towers 1.8 metres tall (1805mm). That means it is bigger than a Toyota LandCruiser. More crucially, it is 31mm longer and 66mm wider than its key opponent; the Mercedes GLS.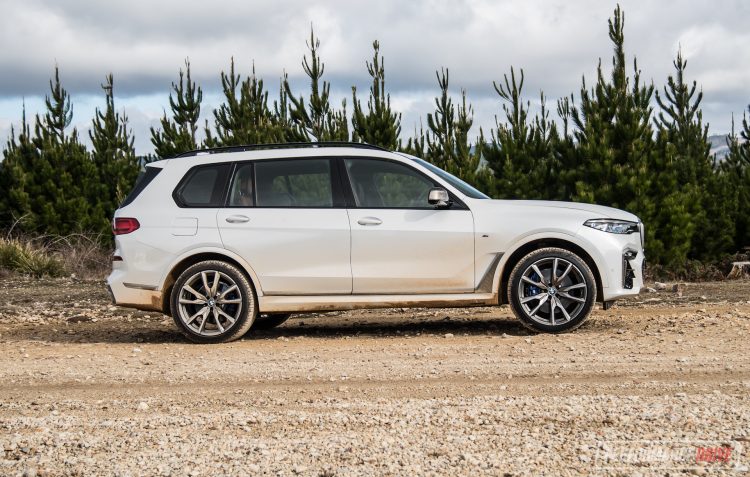 In Australia there are two variants currently available; the base xDrive30d, and the flagship M50d featuring a smattering of M Performance highlights. This model we're testing here is the latter. The M50d is the second model in Australia to come with BMW's almighty 3.0-litre quad-turbo inline six diesel, following the new X5 and its M50d variant that was announced late last year. This engine is also the first and only production passenger car engine in Australia to come with four turbochargers.
Prices start at a rather reasonable $119,900 for the 30d and go up to $169,900 for this M50d. This is an expensive vehicle, obviously. But for a flagship model that's part of the 7 Series family, the price seems surprisingly modest. For reference, the smaller and hierarchically inferior BMW X5 xDrive30d starts from $112,990, and the X5 M50d starts from $149,900 (all excluding on-roads).

2019 BMW X7 M50d – THE SPECS
Engine: 3.0-litre quad-turbo six-cylinder
Output: 294kW@4400rpm / 760Nm@2000-3000rpm
Transmission: Eight-speed auto
Drive type: All-wheel drive, active rear differential with four-wheel steering
Wheels: F: 22×9.5, 275/40  R: 22×10.5, 315/35
ANCAP: Not tested
Tare weight: 2402kg
Power-to-weight: 8.17:1 (kg:kW)
Official fuel economy: Not available (7.0-7.4L/100km initial Euro spec)
Economy during test: 8.4L/100km
Fuel capacity/Type: 80L/Diesel
Power efficiency: 40.83kW:L/100km
0-60km/h: 2.58 seconds*
0-100km/h: 5.50 seconds*
60-110km/h: 3.79 seconds*
1/8 mile: 8.98 seconds at 133.1km/h*
1/4 mile: 13.81 seconds at 165.0km/h*
Max acceleration: 1.007g
100-0km/h braking: 2.95 seconds at 34.29 metres*
Max deceleration: -1.271g
Decibel at idle: 46*
Peak decibel at 60-100km/h: 84*
Priced from: $169,900
* Figures as tested by PerformanceDrive on the day. Factory claims may be different

2019 BMW X7 M50d – THE PACKAGE
Taking a look inside, any questions about whether this is a proper 7 Series are immediately verified. The contrast-stitched Merino leather smells so good, and it extends to the centre console and door trims. We love the Tartufo brown matched with the Mineral white exterior, as featured here. The brown seems to contrast well with the crystal gear shifter and brushed alloy trimmings as well. This interior package is just one of five different standard options available.
Sitting up front there's no getting away from the enormity of the cabin, and the car. Your eyes peer over the huge bonnet, and you sit very tall and upright. All X7s come standard with adjustable air suspension so you can raise the ride height and really tower over other motorists. In this sense, the X7 feels very commanding and empowering.
There is, of course, power-adjustable furniture throughout, including super-comfortable M Sport seats in the M50d. These have side support adjustment and headrest adjustment, with lumbar control and there's even massage functionality available. BMW's traditional under-thigh extender cushion remains. And yes, it's power operated too.
Down on the centre console you might be a bit overwhelmed. Initially. It can seem like you're bombarded with buttons which control a range of unimaginable things. But once you settle in, you'll see it's all fairly intuitive and familiar BMW stuff. The iDrive controller is just like the system on most BMW models, only it's encrusted with glass. The drive mode buttons are easily identifiable, with the ride height toggle just to the left. There's also a glass start button to match the shifter and iDrive pad.
It doesn't matter how lovely and opulent you think the front seats are, the X7 is clearly designed to suit rear-seat passengers. Almost more than any other. There is so much legroom and the seats are fully adjustable. You can recline the backrest or slide the bench forward (60:40), and you have complete climate control at hand as well as dual USB-C ports. We're not sure if they are optional but this test model also features special tablet mounting points in the back of the front seats with another charge port for each. There's also soft pillows, wrapped in suede/Alcantara, to rest your weary head.
Right up the back you'll find two more seats, which, again, are electronically adjustable. They are almost as accommodating as the front seats, but unless you slide the middle row forward a bit you don't get the legroom of the middle row. The overall room back here is very impressive, though. With the middle row pushed forward just a little, you'll be surprised by how comfortable it is, even for adults. Passengers here are also treated with cup holders and charging ports, and the same diamond-stitched leather which extends right up the side panel.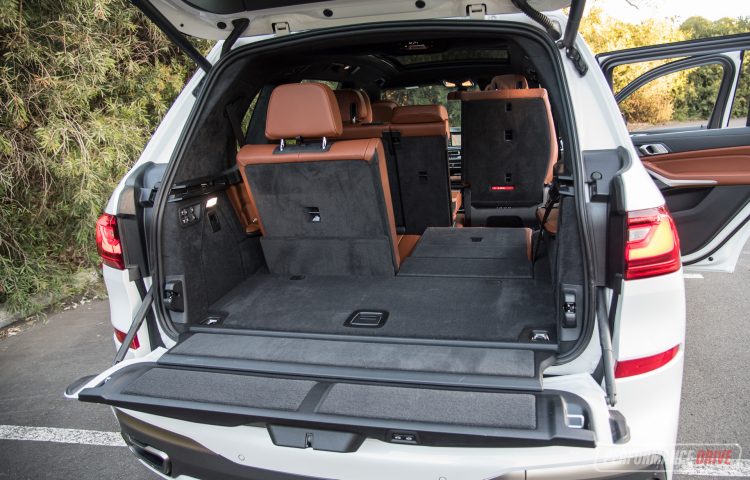 As you would expect, the boot is huge. With all rows up the specs say there is 326 litres available. That's more than some popular hatchbacks, like the new Mazda3 (295L) and Toyota Corolla (217L). Fold the two rear rows down though, without using manual labour of course, and you're presented with a bedroom-like 2120 litres.
BMW provides two different cargo blinds to protect your cargo; including an Alcantara-wrapped smaller item for the seven-seat configuration, and a traditional roll-out one for the five-seat layout. The leftover item is stored in a special pocket under the boot floor. Needless to say, the split tailgate is also fully electric.

2019 BMW X7 M50d – THE DRIVE
Firstly, let's discuss that engine because it is a very interesting one. Based on the widely-used 'B57' 3.0-litre inline six diesel, BMW engineers reworked it and bolted on four turbochargers. Why four? There are two variable geometry turbines (TwinPower) and two conventional single-vein turbines; covering low pressure and high pressure. These help to provide colossal power and torque at a wide rev range.
Peak power is rated at 294kW and is available at 4400rpm. Although that is a lot of power for a diesel, especially a six-cylinder diesel, it's the torque that gets you giggling. A whopping 760Nm is available between 2000rpm and 3000rpm. We've heard BMW wanted to create this engine as an alternative to a V8 amid ever-tightening emissions and fuel consumption laws. And in that respect, it is Euro 6 certified (the current standard in Europe). The fact that it is regarded as an alternative to a V8 gives you some clues of its performance.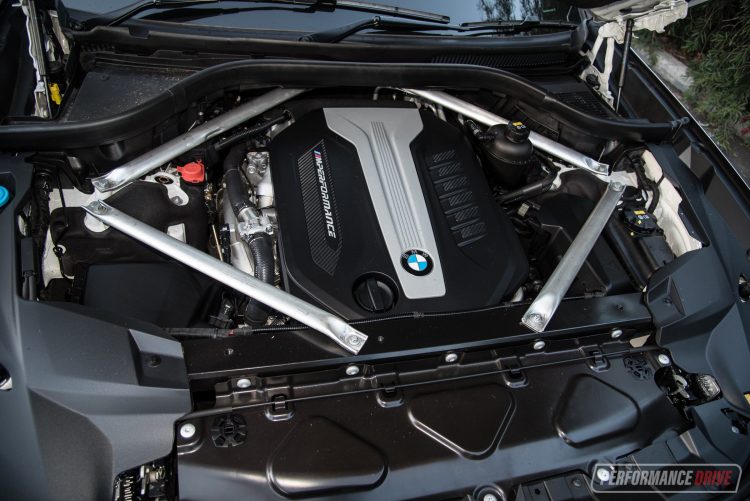 What does four turbochargers feel like to drive? Unless you've driven a modern Bugatti, this is the only production car that allows you to experience it. Throttle response is outstanding. Even right off the mark. There is a very small hesitation as the drivetrain takes up the slack, like in most cars, but from there it just hauls and hauls. The revs don't seem to run into any trough or damp patch. Instead, the tacho needle climbs perfectly progressively.
In Sport Plus mode in particular it behaves like a naturally aspirated petrol engine. With a compression ratio of 16:1, it has no worries climbing revs, and it seems to enjoy high revs. This is unusual for a diesel. There's also quite a strange sound emitted from the exhaust. You'll probably think we're losing our marbles but it does actually sound a little bit like a Bugatti Veyron (it also features four turbos). Have a listen in our video below and tell us what you think.
As for the timed performance, we clocked a best 0-100km/h of 5.50 seconds, with the quarter mile coming up in a brute 13.8 seconds. We have no doubt in our minds that it could do even quicker. As usual, we tested it with close to a full tank of fuel. Considering it has an 80L tank, that's about 65kg of diesel weight when full. Although, that's just a drop in the ocean compared with this beast's tare mass of 2402kg. Did we mention this was a massive SUV?
We're not going to lie. You can feel this weight when driving at a moderate (or higher) tempo around corners. It tips in with grace but it can possess understeer tendencies when pushed hard. Playing around with the driving modes makes a big difference. In Comfort mode the air suspension is relaxed and absorbent, which is perfect for country roads and around the city. The active roll stabilisation minimises body roll, but the weight shift does seem a cadence behind prompt commands. In other words, sharp directional changes are accompanied by a faint yet noticeable after-shock as the body and weight catches up.
The Sport mode firms things up significantly. The body roll is reduced to an absolute minimum and the steering feels more enthusiastic. The body is also more eager to play and seems more in sync with swift lateral and longitudinal movements. However, we did experience some push-understeer when driving really hard in the bends. More so in the Sport mode, perhaps due to the firmer suspension reducing the weight shift effect.
The M50d variant comes with an active M differential for the rear axle to help sort out all of that torque. If you're leaning on the power while turning the xDrive all-wheel drive system and the rear diff are very clever, and will do everything they can to manage all of that heaving shove.
There's also BMW's Integral Active Steering as standard, which is BMW speak for rear-wheel steering. This is an unreal technology as it helps the big X7 glide around big sweeping corners with leisure, and in particular it assists in tight city streets and car parks. The rear wheels are able to pivot in the same direction as the front (for higher speed stuff), and in the opposite direction (for sheer manoeuvrability).
While we'd happily proclaim that the X7 M50d is the best-handling SUV in the upper-large segment, it isn't as agile or as encouraging to throw down a set of bends as the X5. And that's totally fine as this is, after all, a 7 Series; a synonym for relaxation and enrichment.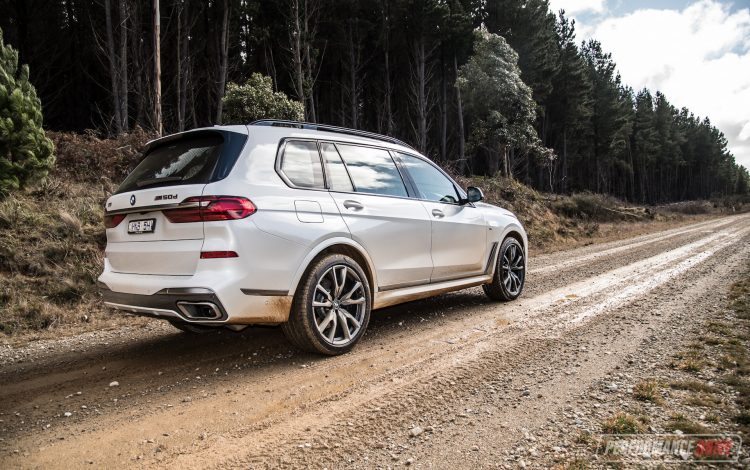 What you can't really do in a 7 Series is drive it off road. But you can in the X7. Raise the suspension up to its highest setting and you have decent ground clearance. Certainly enough to clear rough dirt roads and seriously rutted undulations. BMW says the suspension offers 80mm of adjustment and says there is 221mm of ground clearance. But it doesn't specifically say if this is the maximum ground clearance with the suspension topped out. It's all good anyway. For reference, a Toyota LandCruiser 200 Series offers 225mm.
During our test we took the mammoth SUV into the high country behind the Blue Mountains. Although we didn't subject it to hardcore all-terrain torture test, the X7 seems to cope extremely well on slippery mud, and the air suspension soaks up nasty jitters and corrugations with ease.

2019 BMW X7 M50d – THE VIDEO
2019 BMW X7 M50d – THE VERDICT
This is a magnificent vehicle. We love the titanic quad-turbo diesel, with its relentless performance and respectable fuel economy – we averaged 8.4L/100km during our week. We also admire the herculean size and brave front grille design, and the utterly luxurious cabin atmosphere.
What we like most though is the price, surprisingly. For this level of luxury you'd normally have to spend $200,000 or more. For example, the most affordable 7 Series kicks off from $196k. With this, you really do get a lot of vehicle for your money.
We will be testing the base 30d version soon, which is about $40k less than this. It will be interesting to see if that feels just as deluxe and indulgent.
PROS:
– Genuine 7 Series luxury and comfort; lavish rear seat accommodation
– Immense torque from quad-turbo engine
– M50d looks proud and dominant on the road
– Lots of clever tech; 4-wheel steering, active shutter grilles
– Decent value (for this end of the market)

CONS:
– Although BMW does well to try and hide it, it is a heavy beast (2400kg)
– Some creaks and squeaks from the cabin
As always, if you're thinking about buying a new car don't forget to click here to speak with our car buying specialists.